45 Trader Joe's Pumpkin & Fall-Themed Products For Every Occasion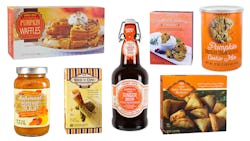 Trader Joe's/Bustle
We are living in peak pumpkin spice times. If you need evidence of that, look no further than Trader Joe's pumpkin and fall-themed products. There is a pumpkin product for most every occasion.
In addition to sweets and treats you'd expect — your pumpkin bread, your pumpkin muffin mix, your pumpkin pancake — Trader Joe's has delved deep into the savory pumpkin spice game, coming out with everything from pumpkin ravioli to pumpkin pasta sauce to even pumpkin samosas. Have you come to expect anything less from Trader Joe's?
In a recent episode of the Inside Trader Joe's podcast, Trader Joe's gurus (read: marketing directors) shared some of the new fall flavors you can expect to see in your local Trader Joe's aisles. The aforementioned pumpkin samosas were among those highly-anticipated fall foods. Additionally, they shared some autumnal treats you may be able to find in a fall season to come. "We are working on a recipe right now, internally, for a Vegetarian Spicy Pumpkin Curry Pot Pie," Inside Trader Joe's podcast co-host Tara Miller shared. Unfortunately, the pot pie is not quite ready to make its debut quite yet.
But fear not: you have plenty of fall foods to enjoy in the meantime. Here are 45 pumpkin and fall-themed products you can buy at Trader Joe's.
Remember to, please, pumpkin spice responsibly.