These Rainbow Wine Glasses Are My Go-To Housewarming Gift (& They're Under $50)
Trust me — they're always a hit.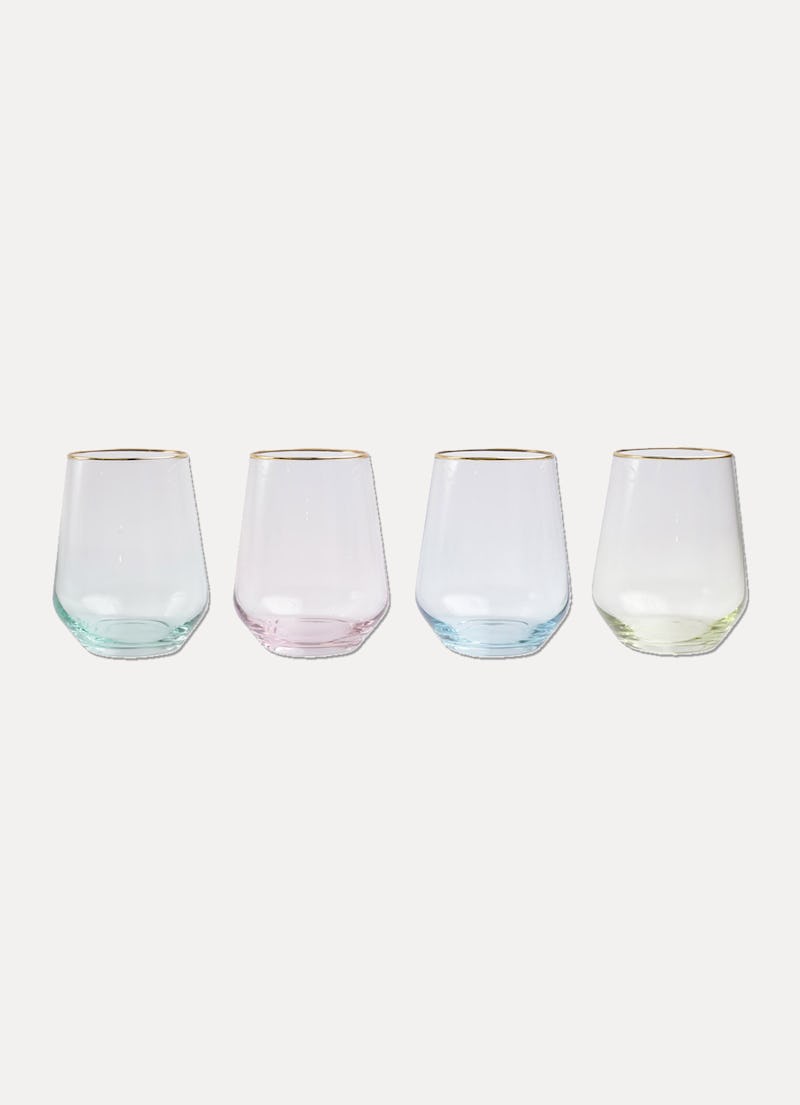 I'm at the stage in my life where my friends are moving into their own spaces, whether it's cohabitating with a significant other for the first time or purchasing a home. And that means plenty of housewarming parties to fill up my itinerary. While every invite I receive is sure to bring fun and festivities, it also brings the need for unique housewarming gift ideas. I can't go to these parties empty-handed, after all!
Not only does the present need to be something that my friends will actually use, but one that won't break the bank, either. Picture going to a housewarming party every two weeks — that adds up! Fortunately, my constant scramble for unique housewarming gift ideas is now over: This under-$50 find is officially my go-to.
This set of stemless rainbow wine glasses from Something Navy is getting me through a calendar full of bashes. As someone with a tight budget, I'm always on the hunt for a steal and these fit the bill, as the set includes four glasses for just $48.
But aside from the price, these glasses are also incredibly pretty and feel so special: Each of the four glasses comes in a different wash of color, and the gold rim gives them an elegant flare that looks custom made. They're so much more unique than your average set of wine glasses.
Bustle Shop is Bustle's shoppable guide to editor-approved buys in fashion, beauty, wellness, and lifestyle. We may receive a portion of sales if you purchase a product through a link in this article.
Many times at housewarming parties, my friends will open these on the spot and pour some wine in them to enjoy. They don't even have to be used for wine specifically. Personally, I use my own set for Shirley Temples, lemonade, and other non-alcoholic beverages since I don't drink. Their stemless design makes them endlessly versatile — truly a top-tier housewarming gift.
If the set isn't a perfect fit for your new homeowner friends though, there's plenty more where that came from. Scroll below for more budget-friendly and unique housewarming gift ideas to shop now.
A Fragrant Candle
Help set the mood in your friend's new living quarters with this candle featuring subtle notes of citrus, clove, and green tea. With an 80 hour burn time, it comes in a beautiful ceramic holder decorated with a floral and lemon design and includes a housewarming-ready gift box.
Salt & Pepper Shakers
Salt and pepper shakers might not be on the top of the new homeowner's shopping list, but they'll be glad they have them when it's time to sit down for their first home-cooked meal. Made from sustainable solid oak and glass, these cute little shakers will fit in perfectly with any kitchen aesthetic.
A Bar Tools Set
When it comes time to pop that housewarming bottle of bubbly or pour that first batch of celebratory cocktails, this bar tools set will come in handy. With handwoven rattan detailing, it includes such essentials as a bottle opener and double-sided jigger.
A Tea Pot
Give the new homeowners a place to steep their favorite warm beverage. The clean white hue will undoubtedly match any kitchen set-up, and the piece will look charming whether placed on the stove or a new shelving unit. Gift this alongside a fancy tea cup to fulfill the ultimate tea party fantasy.
A Coaster Set
After spending thousands of dollars on new furniture, the last thing anyone wants is to stain those surfaces with water rings. That's where the housewarming gift of a coaster set will come in handy. Crafted from marble, this pretty pink set includes four coasters so they'll be ready for hosting — and can protect their new coffee table while they're at it.
An Aroma Diffuser
After a hectic few months of moving, there's nothing new homeowners need more than some time to relax. With a few drops of a favorite essential oil, this diffuser spreads fragrant aromas throughout the air on a continuous time loop. Plus, it has seven mood lights to create the perfect spa-like ambiance.
A Google Nest
This Google Nest will help bring life into any new home with its music streaming capabilities. Plus, it'll help the new homeowners get organized, since the smart device can help manage itineraries and to-do lists. Oh, and it's compatible with both iOS and Androids, too.
A Cheese Board Set
Prepare them for all the dinner parties in their future with this marble cheese board. Clocking in at under $50, it features protective felt pads at the bottom to prevent scratches to table tops and also includes three gold cheese knives. Bring on the charcuterie spread!
A Pair Of Vases
What's better than one new vase? Two, of course. Each of the cylindrical vases in this set feature an iron body that's painted with a farmhouse-inspired design. Gift them with a bouquet of flowers to really make your friends smile.
A Foodie-Worthy Gift Set
If your friends are foodies, then this unique housewarming gift idea is perfect. The gift set features a sun-dried tomato spread, a porcini mushroom spread, and extra virgin olive oil with authentic Italian black truffle. They'll be so excited to use these goodies in the dishes they'll whip up in their new kitchen!
Bustle Shop brings you the editor-approved buys we can't get enough of and think you'll adore, too. Best of all, you can shop all of the products above directly on this page without visiting multiple retailers. Simply click on an item to learn more, choose your size or favorite color (if applicable), and then hit "add to cart." When you're done, you can click over to your cart in the top right corner of your screen to purchase all your stellar selects at once. How easy is that?
Questions about shipping, returns, or your order in general? Click here for more information.
Explore more of Bustle Shop (and our fashion, beauty, and lifestyle must-haves) here.