Here's Your Sex Horoscope For Valentine's Day
There's big Aquarius energy this holiday.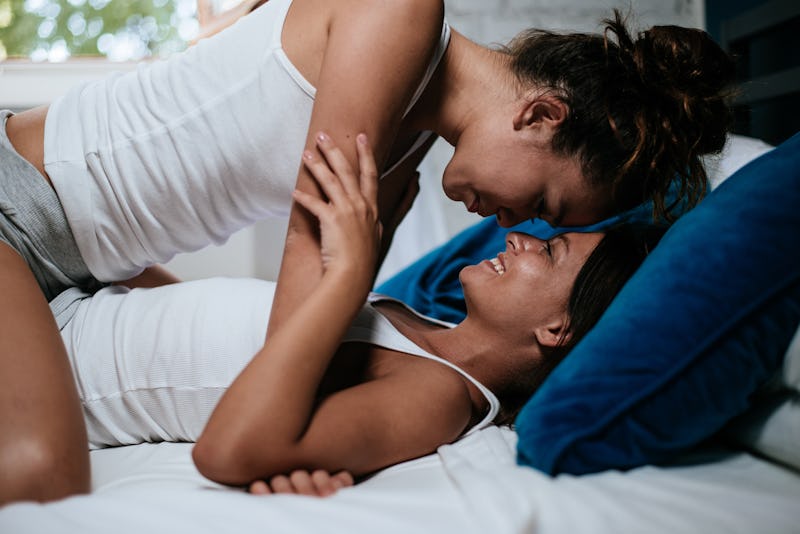 Fabio Formaggio / EyeEm/EyeEm/Getty Images
Valentine's Day sex may have been something you looked forward to, or even expected, in previous years. But with the pandemic, Mercury retrograde, and the influence of icy Aquarius energy, getting it on may not be at the very top of your to-do list. However, don't be so quick to write off Valentine's Day sex just yet. Your Valentine's Day 2021 sex life horoscope has all the details of what's in store for you this year.
"We have big Aquarius energy this Valentine's Day, which of course is more on the, shall we say, chilly side," astrologer Clarisse Monahan tells Bustle. "However, Valentine's also boosts a very nice aspect between the two 'Great Benefic's,' Jupiter and Venus. These two will be up close, personal, and conjunct in the sky, as will Mercury. So even though they're all in uber-cool and detached Aquarius, which can make the tone a bit unromantic, it's still very focused on unconditional and expansive love."
Aquarius isn't really a relationship-oriented sign and tends to favor groups and friendships over romantic partners. Because of this, you may receive a ton of messages from friends and loved ones. "This is a day when people will be looking out for others, especially for those who may be feeling a little down or isolated," Monahan says.
However, that doesn't necessarily mean that Valentine's Day 2021 won't be special for you and your partner. In fact, some zodiac signs may be getting lucky this year. Here is your Valentine's Day 2021 sex life horoscope if you want to know what to expect.
Source
Clarisse Monahan, astrologer and owner of Astroloteez