Where To Buy Giant Lotus Biscoff Jars In The UK
Move over Nutella, there's a new super-size jar on supermarket shelves.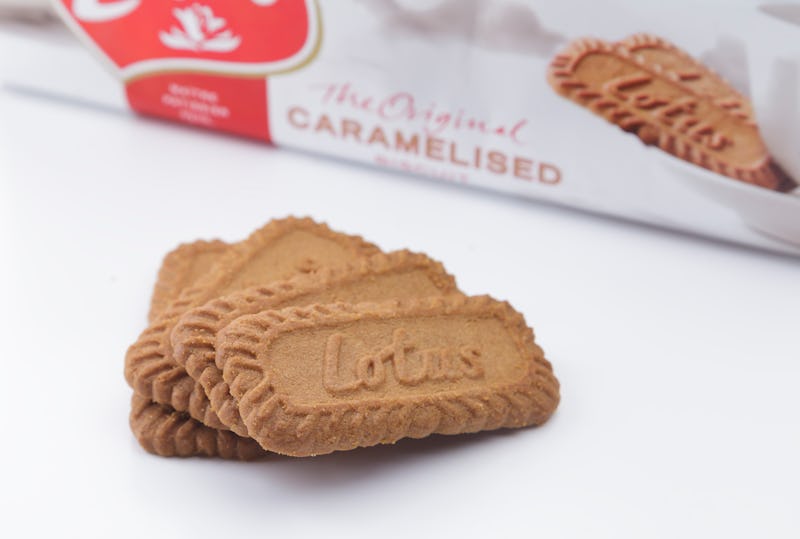 serts/iStock Unreleased/Getty Images
When it comes to sweet spreadables, the UK is pretty spoilt for choice. But there's one spread in particular that has been stealing the limelight of late: Lotus Biscoff. You'll find it in Five Guys' milkshakes, in KitKats, it's even been spotted in lasagne. Yes, lasagne. One biscuit spread-obsessed couple went so far as to have a Biscoff-themed wedding. And now, there's more, in the shape of a new XXL-sized jar. Where can you buy giant Lotus Biscoff jars? Head to Asda.
Asda has launched a new 720g jar of Lotus Biscoff spread, which offers almost twice the volume of the typical 400g jar. At £3.50, the new size is only marginally more expensive than the usual 400g (£2.28). The spread also comes in a crunchy version, with added biscuit-y bits to enjoy.
Need a reminder of the hype? The spread is an offshoot of Lotus Biscoff biscuits. Taste-wise, think sweet, nutty caramel notes, tempered with a slight saltiness, plus an added hint of cinnamon. The biscuits taste like a cosy winter's day spent wrapped up in front of the fire. Now, imagine that level of comfort on your toast or your crumpets.
In November 2020, YouGov reported that in terms of snack foods, Lotus Biscoff saw the largest increase amongst its customers. Why are we so obsessed? Online publication Tyla launched a fun investigation into the Biscoff craze in February this year. Tyla came to the conclusion that Biscoff rocks our tastebuds because it achieves an excellent balance of flavour.
One way to use your Biscoff spread? Smother your pancakes in that luscious caramel. Your jar will be done in no time.
Speaking to Tyla, Micah Carr-Hill, co-founder of food development company Tastehead, said: "A good biscuit essentially has a perfect balance of sweetness and salt, and this, coupled with the spice and bitterness, is why Biscoff were always on to a winner."
A brief history of Lotus Biscoff
Let's rewind to the source of Biscoff's success. It's 1932, in a bakery in the small Belgian town of Lembeke, where Jan Boone has just created a new caramelised biscuit. He names it Lotus, inspired by the purity of the natural ingredients within. He goes on to sell the biscuit to cafes and diners, marketing it as the perfect accompaniment to coffee. The name Biscoff evolves – it is, in fact, a portmanteau between 'bis' from biscuit, and 'coff' from coffee.
Since then, the Lotus Biscoff biscuit's popularity has continued to soar. Its popularity is such that one Eater editor wrote an article titled You Can Take My Leg Room, But You Can Never Have My Biscoffs when Delta Airlines removed the biscuit from their in-flight menu.
The segue from biscuit to spread came as a result of one Belgian mother's enterprise and invention. Said mum had the great idea of blitzing the biscuits into spreadable form, and entered her creation into local television competition, De Bedenkers (The Inventors). Hers was the winning entry, and she went on to work with Lotus to manufacture the spread. Thank goodness for Belgian mums!
Speaking to Delish, Asda's category planner of desserts and baking, Jamie McMillan, said: "Biscoff biscuits remain very popular with our customers, and the trend of including Biscoff in cakes and tarts is also becoming more and more popular, so we are confident the new exclusive giant gar will resonate with the Asda shopper." I, for one, am inclined to agree.