9 Vegan Biscoff Recipes To Try This Veganuary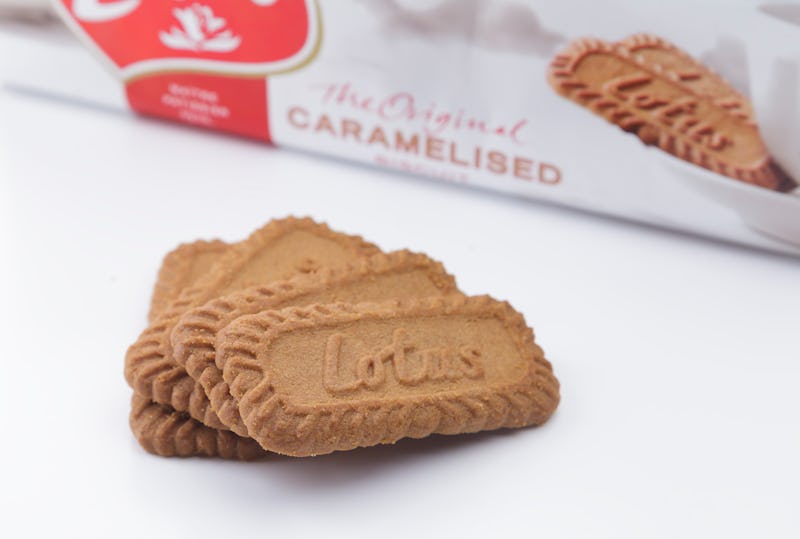 serts/iStock Unreleased/Getty Images
Each lockdown has seen more and more of us try out the wonders of baking, with kitchens across the country becoming their own mini Bake Off tents in the span of a year. This third UK lockdown has fallen in the month of Veganuary, an annual challenge where people are encouraged to give up animal products, and follow a vegan lifestyle for 31 days — and potentially beyond, taking their plant-based learnings forward into the rest of 2021. So, with January, vegans and baking in mind, I've rounded up the best vegan Biscoff recipes to try in Veganuary.
Biscoff spread by the spoon has been high on the treat list for a while. But, taking things to the next level, there are also dozens of ways to incorporate Biscoff into some of the UK's most popular desserts. Cheesecakes are the obvious go-to (Lotus biscuit crumbs were made for them, I swear), but there are plenty of other treats like fudge, brownies, banana bread, and even mug cakes that taste 10 times better with the addition of Biscoff – either in its biscuit or spreadable form.
Whether you're a vegan looking to expand your sweet recipe repertoire, you're trying out Veganuary this month and in search of inspiration, or you're just a major Lotus biscuit fan, here are nine new vegan Biscoff recipes to fall in love with. Let the baking begin.