Quarantine Is Make Or Break For These 3 Zodiac Signs
Air and Fire just don't mix.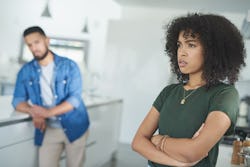 LaylaBird/E+/Getty Images
It's only been a couple of months since you and your partner decided to quarantine together, and you're already over it. At first, you thought you could deal with their quirks and little habits, but now it all feels irritating. You don't know how much more you can take. The reality is that some people just weren't made to live together, and social distancing with a zodiac sign you're not compatible with can show you how true that is. According to an astrologer, there are three zodiac couples most likely to break up after quarantining together.
As astrologer Clarisse Monahan tells Bustle, couples who won't survive being in quarantine together most likely have incompatible Moon signs, in addition to their Sun sign. "Moon signs are what people see behind closed doors, and if you and your partner have wildly different emotional ways of being, this can cause problems when stuck playing house together for months," she says.
Certain zodiac signs also need more space in their relationship. For instance, Fire and Air signs tend to need more autonomy than Water or Earth signs. "It's not that Fire and Air signs don't want to couple up and nestle down, they just appreciate space and tend to get invigorated when they have that time available to miss their partner," Monahan says.
With that said, it's no surprise to find that couples with at least one Air or Fire sign partner have made this list. So, here are are the three zodiac couples most likely to break up after quarantining together.