How Each Zodiac Sign Will Celebrate Their Anniversary In Quarantine
From romantic movie nights to planning your retirement.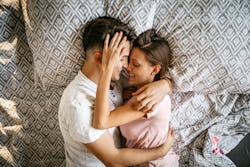 hobo_018/E+/Getty Images
Finding creative ways to celebrate special days moments in the middle of a pandemic can feel a little claustrophobic. Unlike last year, your options are pretty limited, and you may not even be in the most celebratory of moods. But don't let COVID kill the magic on your special day — if your anniversary is coming up, there are plenty of ways to have a romantic night in. And your partner's zodiac sign can spark some ideas for how to celebrate your anniversary while in quarantine.
If you're lucky, you may not have to do too much at all. Jennifer Lakshmi Dove, intuitive astrologer and transformational coach, tells Bustle that some zodiac signs tend to be more eager about making plans for your special day than others. For example, Cancer, the ultimate nurturer among the zodiac, will be more than happy to prepare a nice home-cooked meal. Energetic Leo will also be excited to plan something fun and creative for you two to do at home. Every sign has their own way of celebrating your relationship.
Your anniversary is going to look a little different this year than previous ones, but that doesn't mean that it can't be a memorable one. So, here's how you should celebrate your anniversary in quarantine, based on your partner's zodiac sign.