3 Zodiac Signs Most Likely To Be Cancer's Soulmates
his crab deserves to find their one true love.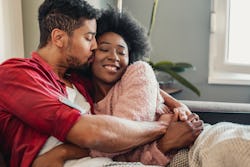 blackCAT/E+/Getty Images
When you're a Cancer, all you want to do is find that one special person in the world that you can give your whole heart to and settle down with. Thankfully, astrology can help by telling you which zodiac signs are most compatible with your sign. You're kind, sensitive, and genuinely sweet. You have a lot of love to give and expect very little in return. You're the epitome of wholesome, and the type of partner anyone would be proud to take home to meet mom. If anyone deserves happiness in love, it's definitely you. But finding your soulmate isn't easy. If you're looking for "the one," — which, let's face it, you probably are — there are three zodiac signs most likely to be Cancer's soulmate.
"Once Cancer has met their soulmate, they'll hold on tight," astrologer Clarisse Monahan tells Bustle. "Cancer rules the home, so they create deep, lasting emotional bonds and their soulmates tend to become like family. However, when their soulmates first appear in their life, one thing is for sure: Cancer will feel it instantly."
As a water sign, Cancer is naturally intuitive. They tend to feel their way through everything, and as long as they trust their initial gut feeling, they'll never be let down. In relationships, Cancers value security above everything else and will take their time before opening up emotionally. But once they feel safe and secure, there's no turning back, as Cancers tend to love for life.
Not everyone can appreciate Cancer's all-in approach to love, but the following three compatible zodiac signs can.