3 Zodiac Signs Who Are Compatible With Their Own Sign
Is anyone surprised to see Capricorn on this list?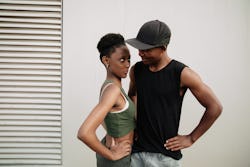 Hello Africa/DigitalVision/Getty Images
Lots of couples love the same foods, watch the same shows, and many even start dressing alike — in a slightly creepy, but mostly cute, sort of way. But if it ever feels like you're dating your twin, maybe it's because you're one of the few zodiac signs compatible with their own sign.
Astrologically speaking, folks tend to be happiest with someone who is their opposite. A fiery, unpredictable sign will be drawn to someone who's more measured and grounded. And a highly practical, analytical sign is likely to fall for someone dreamy and romantic, because they need more of that in their life. It's all about complementing each other, and striking a balance.
Then there are the signs who butt heads with folks who are too similar to them. Leo is a good example, since they're always striving for the spotlight. They prefer a partner who's OK with stepping back, rather than being with a fellow Leo who's also trying to be the center of attention. The same vibe happens when two Aries date. Since they're so goal-driven, they might view another Aries as competition — instead of their partner.
But for a select few signs, it makes total sense that they'd fall for someone just like themselves. Here, the three zodiac signs who are quite happy to be with their astrological twin, according to astrologers.
While others might do best with a partner who is their opposite, Cancer, Capricorn, and Aquarius thrive in relationships with those who truly understand them — someone who has their very same sign.
Experts:
Cassady Cayne, astrologer
Arriana Fox, professional tarot card reader and astrologer