3 Zodiac Signs Most Likely To Love Audio Porn
our imagination can help develop your desires.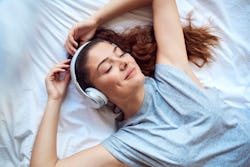 Westend61/Westend61/Getty Images
Watching people get it on can sometimes help get you off. But other times, bad acting, weird camera angles, and the fact that no one looks like you or anyone you know can make it hard to get into. If you're looking for something a little more immersive and stimulating than visual porn, audio erotica may be just the thing for you. If you're a Gemini, Aquarius, or Pisces, it's really worth a try as these three zodiac signs are most likely to love audio erotica.
"One of audio erotica's primary functions is to appeal to the body's most important, and often neglected, sex organ: the brain," Mia Sabat, sex therapist at Emjoy, a sexual wellbeing audio app, tells Bustle. "While most forms of pornography focus on visual elements of sexual encounters, and may not to be everyone's taste, audio erotica is brought to life by the power of imagination."
According to Sabat, audio erotica can help to spice up your love life by developing your desires and fantasies. When you're listening to a story that's been vividly crafted, your imagination can help bring you into that world. You'll become part of it, and not just be an observer.