3 Zodiac Signs Most Likely To Move In With A New Partner During Quarantine
Is anyone surprised to see Pisces here?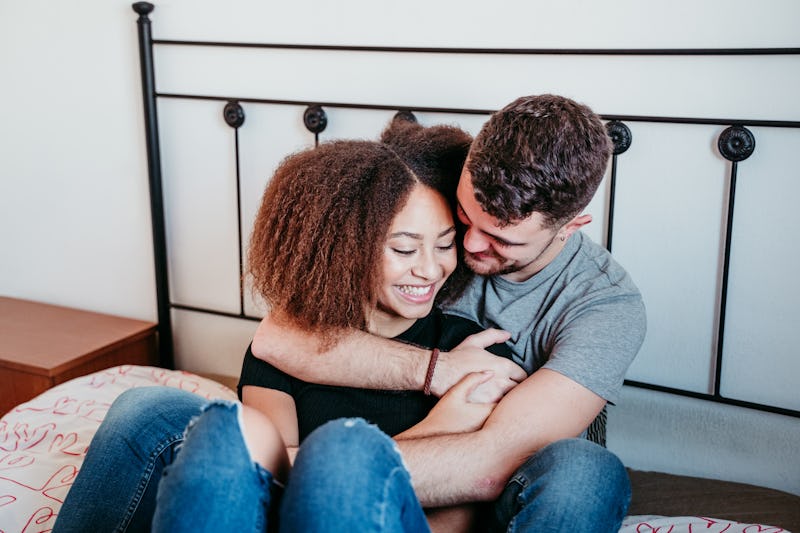 Eva Blanco / EyeEm/EyeEm/Getty Images
Love can make you do all kinds of unexpected things — like, say, move in with someone you met on Tinder just a few weeks prior. In fact, according to an astrologer, three zodiac signs won't hesitate to move in with a new partner after just a few virtual dates. Social distancing has given rise to "turbo relationships," where new couples move in and get serious super fast. But when living in a world where more first dates are virtual, and kissing is delayed as much as possible, some people only need several virtual interactions to know they're ready to play house with their newfound love.
If you've ever wondered why some people can dive right in and take big risks for love, the answer might be in their birth chart. As astrologer Noelle Vincent tells Bustle, if someone has strong Scorpio in their chart, like Venus, Mars, or Pluto in the eighth house, a person is likely to have an all or nothing approach to dating and relationships. "Scorpios are either in or out, and there's no gray area," she says. "If you combine this Scorpio energy with the 'love planets' of Mars and Venus, or the 'partnership sign,' Libra, this person will be extreme in their ways of love."
Those with strong Taurus in their charts also tend to go all-in with their relationships. Since they're ruled by Venus, they tend to value love, possessions, and pleasure. Your birth chart can show you a lot about how you are in love.
Astrology can go in-depth, but it doesn't mean that your Sun sign can't reveal a few key things. So, here are the three zodiac signs most likely to move in with a partner after just a few virtual dates, according to Vincent.