13 Zoom Activities That'll Liven Up Your Galentine's Day Celebration
"What's Galentine's Day? Oh, it's only the best day of the year."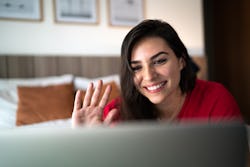 FG Trade/E+/Getty Images
Like clockwork, Valentine's Day comes every year and every year singles everywhere are forced to endure the romantic side of the holiday. But Valentine's Day isn't just about celebrating romantic love, it's also for sharing love with your true ride or dies, aka your girl friends. And since the coronavirus pandemic and cold weather is keeping us inside, throwing a virtual Galentine's Day party is the perfect way to spread love.
Back in 2013, Parks and Recreations' Leslie Knope bestowed the gift Galentine's Day upon us. Falling on Feb. 13 every year, Galentine's Day is all about celebrating our girl friends, no matter how that looks. Virtually speaking, you can do a lot to celebrate with your ladies from all over the globe. Dressing up, baking together, powerpoint presentations (yes, even those), and wine 'n' sip nights are all things that can still be done virtually. Zoom parties have allowed us to stay comfy and cozy while getting in some much-needed fun and socialization. Besides, we all have that one introverted friend that would happily thank us for hosting from home.
Get ready to host a Galentine's Day to remember. Here are some great ideas on what you can do at your virtual ladies night.