There's No Way You Caught All Of These 'Trial & Error' True Crime Easter Eggs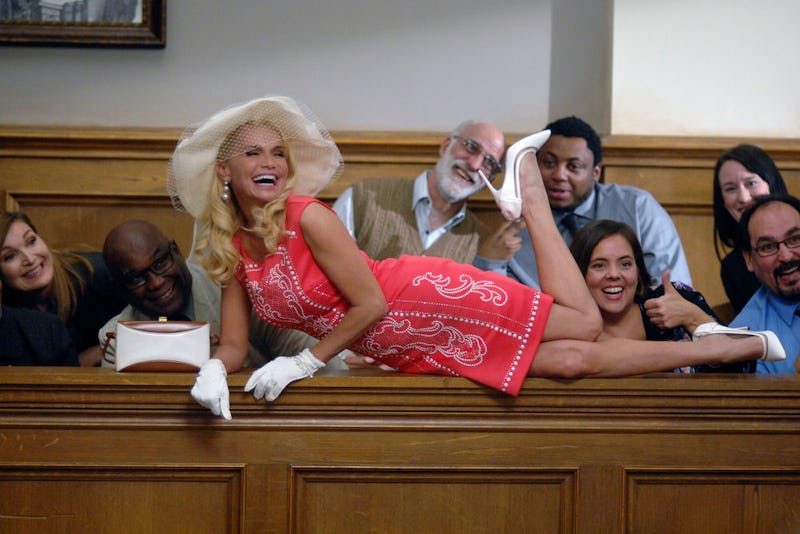 Sergei Bachlakov/NBC
Spoilers ahead for the Season 2 premiere of Trial & Error. The popularity of true crime documentaries has skyrocketed so much in the past few years that one of television's goofiest sitcoms is in its second season of sending them up. The two-episode premiere of Trial & Error is full of true crime references — so much so that even some of the most devoted fans of the genre may have let a few slip by them.
The first season of Trial & Error centered on Larry Henderson (played by John Lithgow) and parodied the popular docuseries The Staircase. Season 2, subtitled Lady, Killer, is mashing-up two more buzzy investigatory true crime series: The Jinx and S-Town.
The subject of The Jinx, which aired on HBO in 2015, is the wealthy and confounding Robert Durst, who is currently on trial for the 2000 murder of his friend Susan Berman, per The Los Angeles Times. (He entered a plea of not guilty and maintains his innocence.) The podcast S-Town begins with an investigation into a small-town conspiracy that is eventually disproven, and then morphs into being a character study of eccentric horologist John B. McLemore and an examination of small-town living — a far cry from the violent grit of The Jinx.
Pulling from two vastly different series, Trial & Error builds out the fictional characters and events of East Peck, South Carolina. The first two episodes alone are packed with references to The Jinx and S-Town, which means that there should be plenty more where that came from as the season goes on. Here are the nods that you may not have caught: