10 Literary Costume Ideas For You And Your BFF This Halloween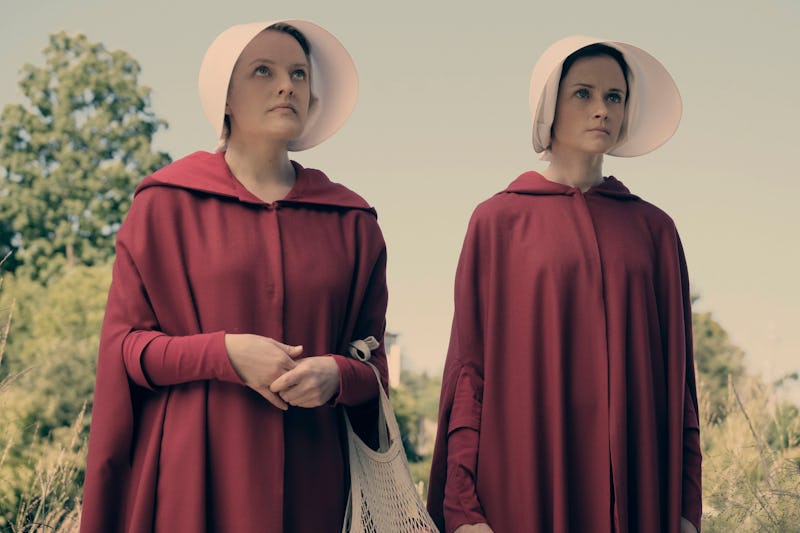 George Kraychyk/Hulu
Halloween is just around the corner, book nerds, and although I hope you have already planned out your costumes well in advance of the festive event, I know that many of you, like me, have procrastinated until the very last minute. Fear not! I have 10 bookish BFF costume ideas for you and your bestie, so grab that one friend who is just as much of a hot mess as you are and get to shopping.
Note that I said "one friend." There are plenty of group costume ideas on Bustle, if that's more your style, but these costume ideas are for two people: BFFs, couples, siblings, or whatever other relationship you can think of. Each of the ideas below has the potential to be expanded to fit a group of any size — because most books have more than two characters, FYI — but you'll be on your own for that. I'm just here to inspire your creative costume sensitivities.
I love bookish Halloween costumes. There's nothing like dressing up as someone whom only a select few will recognize — and you should definitely be weeding out your potential romantic partners this fall by seeing how they fare when it comes to identifying your literature-inspired costume — and it's even better when you find the people at the party who know exactly who you are on sight. If you don't know what I'm talking about, just ask your friend who always wears the obscure costumes that require lengthy explanations in order to understand.
One thing no one tells you about doing a bookish Halloween costume, though, is just how difficult it is to pull off if your source material isn't illustrated and/or hasn't been made into a movie. For that reason, I've tried to pick picture books and novels that have been adapted for the screen in the past.
Clearly, this isn't a perfect method of book-selection, and I'm sure you may disagree with my costume ideas for some of the characters below. That's OK! With only 10 entries, this list is obviously not an exhaustive source of book-related costumes, so I encourage you to share your favorite literary Halloween ideas with me and others on Twitter. Check out what other folks have shared too, and spread the best ideas around the Internet!
Here are 10 bookish BFF costume ideas for you and your bestie to try out this Halloween.
Check out the entire 'What's Up, Boo?' series and other videos on Facebook and the Bustle app across Apple TV, Roku, and Amazon Fire TV.