These Tweets Prove We Need "A Day Without A Woman"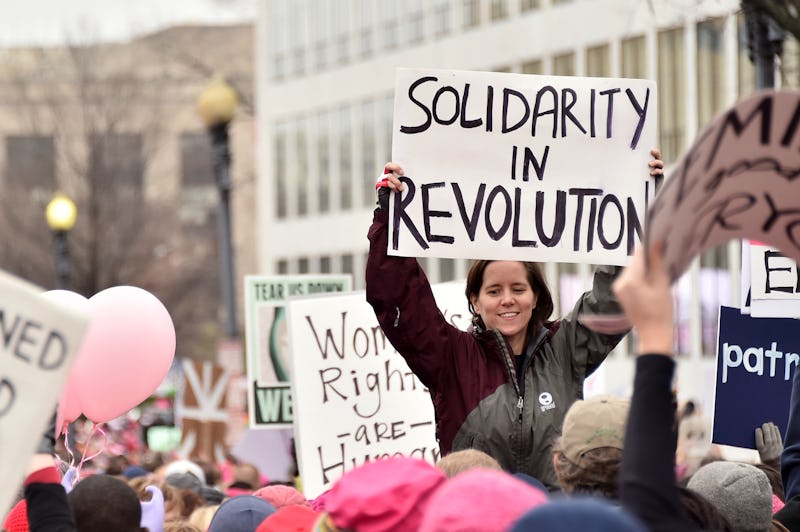 Mike Coppola/Getty Images Entertainment/Getty Images
Maintaining momentum is the only way to advance women's rights. While the Women's March in January raised awareness, it was only the first step in the journey toward gender equality — and equality for all. These tweets prove how badly we need "A Day Without Women," the upcoming peaceful protest similar to "A Day Without Immigrants" that illustrates just how integral women are to society. Duh, right?
It's mind boggling that in 2017 the radical notion that women's rights are human rights is still not accepted by everyone. To that end, the Women's March organizers, who have been vocal in their support for the women's general strike which will occur on International Women's Day, recently released "Day Without A Woman" strike details naming a few ways people can participate — whether they're able to take the day off or not.
Striking can be tricky because many women literally can't afford to take the day off from work. I hear you. Even if you can't stay home from work, though, you can still refrain from shopping, or only give your business to women- and minority-owned businesses; you can also wear the color red in solidarity with the movement. Anything that you normally do as a woman to support the economy that you can refrain from doing March 8 is showing support for the movement.
With recent reports of alleged sexual harassment in the tech industry, violence against trans women, the repeal of the bathroom bill that protects trans kids, and the wage gap that women face at work, are just a few things that illustrate how important it is for women and gender nonconforming people to stand up for their rights. When someone tells you sexism is over, show them these tweets that prove how badly we need "A Day Without Women," because as Madonna said in German Vogue: "We are living in a dream world if we think that Women have equal rights."
1. Holding the Hand that Holds Us Down
2. We All Deserve Equal Opportunities
3. Women's Rights Are Human Rights
4. Men Still Control Women's Bodies
5. Fear Keeps Women Silent
6. 7 Trans Women Have Been Murdered So Far In 2017, And It's Only The Beginning Of March
7. Saying Women Have Equal Rights Is Fake News
8. Standing Up For Those Who Came Before Us
9. Doing What's Necessary to Join the Movement
10. Women Don't Feel Supported
If you can relate to any of these tweets, you know why A Day Without A Woman is necessary. It's time for women, and those who support women and non-binary people, to #BeBoldForChange on International Women's Day.