11 Books Like 'Wonder Woman' To Read After Watching (And Re-Watching) The Movie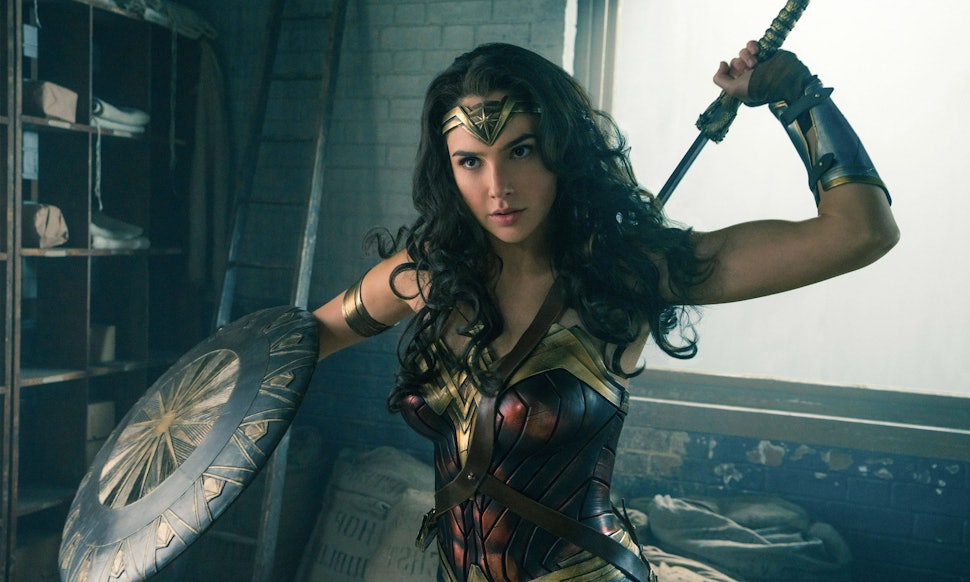 Warner Bros. Pictures
Wonder Woman is the gift of a summer blockbuster that just keeps on giving. From the fact that the film has just become the highest rated superhero movie ever and its record-breaking box office numbers , Gal Gadot bursting on to screens as one of the world's most famous badasses is giving us nothing but life. It's no secret that seeing a woman at the helm of an action flick is a huge deal, not only for the girls and women who are happy to see femaleness being portrayed on screen as strong, capable and fierce rather than being relegated to the role of love interest, but for comic fans who have been waiting to see their favorite superhero on the big screen for years.
Wonder Woman is definitely the movie of the summer, and she won't stop being talked about for a long time to come. But what will feed your obsession after you've seen the film (and are waiting for the inevitable sequel?) Well, there are a few books that might help. Below are some picks including fiction, non-fiction and comics, but they all have one thing in common: warrior women are front and center in each one. You probably don't need anymore proof that females are strong as hell... but it sure is fun to be reminded, anyway.
1

'Wonder Woman: Warbringer' by Leigh Bardugo (August 29, 2017)
Diana longs to prove herself to her legendary warrior sisters. But she throws away her chance at glory and breaks Amazon law — risking exile —to save a mere mortal. Alia just wanted to escape her overprotective brother with a semester at sea. She doesn't know she is being hunted. When a bomb detonates aboard her ship, Alia is rescued by a mysterious girl of extraordinary strength and forced to confront a horrible truth: Alia is a Warbringer — a direct descendant of the infamous Helen of Troy, fated to bring about an age of bloodshed and misery. Together, Diana and Alia will face an army of enemies determined to either destroy or possess the Warbringer. And if they have any hope of saving both their worlds, they will have to stand side by side.
2

'Nimona' by Noelle Stevenson
Nimona is an impulsive young shapeshifter with a knack for villainy. Lord Ballister Blackheart is a villain with a vendetta. As sidekick and supervillain, Nimona and Lord Blackheart are about to wreak some serious havoc. Their mission: prove to the kingdom that Sir Ambrosius Goldenloin and his buddies at the Institution of Law Enforcement and Heroics aren't the heroes everyone thinks they are. But as small acts of mischief escalate into a vicious battle, Lord Blackheart realizes that Nimona's powers are as murky and mysterious as her past. And her unpredictable wild side might be more dangerous than he is willing to admit.
3

'Throne Of Glass' by Sarah J. Maas
After serving out a year of hard labor in the salt mines of Endovier for her crimes, 18-year-old assassin Celaena Sardothien is dragged before the Crown Prince. Prince Dorian offers her her freedom on one condition: she must act as his champion in a competition to find a new royal assassin. Her opponents are men-thieves and assassins and warriors from across the empire, each sponsored by a member of the king's council. If she beats her opponents in a series of eliminations, she'll serve the kingdom for four years and then be granted her freedom. Then one of the other contestants turns up dead ... quickly followed by another. Can Celaena figure out who the killer is before she becomes a victim?
4

'The Amazons: Lives and Legends of Warrior Women Across the Ancient World' by Adrienne Mayor
Amazons, fierce warrior women dwelling on the fringes of the known world, were the mythic archenemies of the ancient Greeks. Heracles and Achilles displayed their valor in duels with Amazon queens, and the Athenians reveled in their victory over a powerful Amazon army. In historical times, Cyrus of Persia, Alexander the Great, and the Roman general Pompey tangled with Amazons. But just who were these bold barbarian archers on horseback who gloried in fighting, hunting, and sexual freedom? Were Amazons real? In this deeply researched book, National Book Award finalist Adrienne Mayor presents the Amazons as they have never been seen before. This is the first comprehensive account of warrior women in myth and history across the ancient world, from the Mediterranean Sea to the Great Wall of China.
5

'Mighty Morphin Power Rangers: Pink' by Brenden Fletcher and Kelly Thompson
After leaving the Power Rangers to compete in a global gymnastic competition, Kimberly Hart, the original Pink Ranger, finds herself suddenly, and dangerously, pulled back into the fray. With her parents missing and their French village overrun by monsters, she must reclaim her destiny and discover the power that lies within, embarking on her first solo Power Ranger mission.
6

'Graceling' by Kristin Cashore
Katsa has been able to kill a man with her bare hands since she was eight. She's a Graceling, one of the rare people in her land born with an extreme skill. As niece of the king, she should be able to live a life of privilege, but Graced as she is with killing, she is forced to work as the king's thug. When she first meets Prince Po, Graced with combat skills, Katsa has no hint of how her life is about to change. She never expects to become Po's friend. She never expects to learn a new truth about her own Grace...or about a terrible secret that lies hidden far away.
7

'America' by Gabby Rivera
Marvel Comics' brand new America series shines a solo spotlight on the high-octane and hard-hitting adventures of the one and only America Chavez, a queer Latinx teenager. America has always been incontestably awesome, and as the newly appointed leader of the Ultimates, she's now officially claimed her place as the preeminent butt-kicker of the Marvel Universe. But while leading a team of heroes and punching out big bads is great and all, it doesn't really leave much time for self-discovery… So what's a super-powered teenager do when she's looking for a little fulfillment? She goes to college!
8

'Princesses Behaving Badly: Real Stories from History—without the Fairy-Tale Endings' by Linda Rodríguez McRobbie
You think you know her story. You've read the Brothers Grimm, you've watched the Disney cartoons, you cheered as these virtuous women lived happily ever after. But the lives of real princesses couldn't be more different. Sure, many were graceful and benevolent leaders—but just as many were ruthless in their quest for power, and all of them had skeletons rattling in their royal closets. Princess Stephanie von Hohenlohe was a Nazi spy. Empress Elizabeth of the Austro-Hungarian empire slept wearing a mask of raw veal. Princess Olga of Kiev murdered thousands of men, and Princess Rani Lakshmibai waged war on the battlefield, charging into combat with her toddler son strapped to her back. Princesses Behaving Badly offers minibiographies of all these princesses and dozens more.
9

'The Valiant' by Lesley Livingston
Fallon is the daughter of a proud Celtic king, the sister of the legendary warrior Sorcha, and the sworn enemy of Julius Caesar. When she was a child, Caesar's armies invaded her homeland, and her beloved sister was killed in battle. Now, on the eve of her 17th birthday, Fallon is eager to follow in her sister's footsteps and earn her place in the fearsome Cantii war band. But she is captured and sold to an elite training school for female gladiators — owned by Julius Caesar. In a cruel twist of fate, the man who destroyed Fallon's family might be her only hope of survival. Now she must overcome vicious rivalries, deadly fights, and perhaps the most dangerous threat of all: her forbidden yet irresistible feelings for Cai, a Roman soldier.
10

'Wonder Women: 25 Innovators, Inventors and Trailblazers Who Changed History' by Sam Maggs
Ever heard of Allied spy Noor Inayat Khan, a woman whom the Nazis considered "highly dangerous"? Or German painter and entomologist Maria Sibylla Merian, who planned and embarked on the world's first scientific expedition? How about Huang Daopo, the inventor who fled an abusive child marriage only to revolutionize textile production in China? Smart women have always been able to achieve amazing things, even when the odds were stacked against them. In Wonder Women, author Sam Maggs tells the stories of the brilliant, brainy, and totally rad women in history who broke barriers as scientists, engineers, mathematicians, adventurers, and inventors.
11

'And I Darken' by Kiersten White