11 Feminist AF Shirts To Wear To The Women's March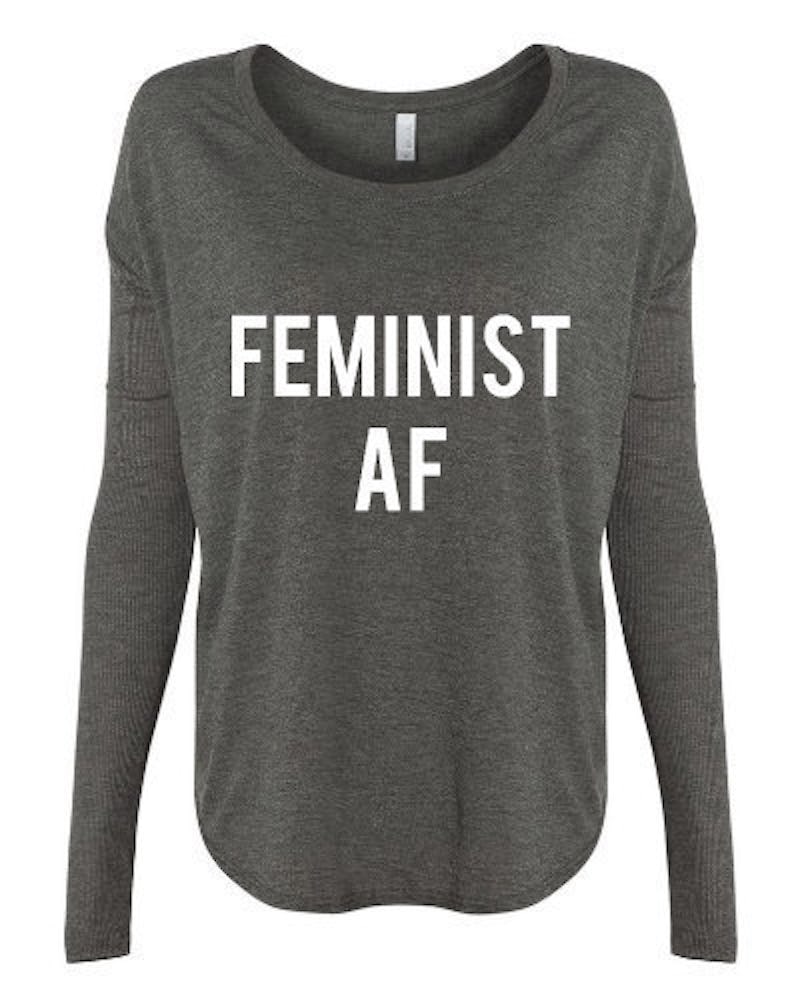 On March 8, women across the United States are scheduled to strike to show the country what the world would be like without women. The event has been dubbed the "Women's Strike" and if you plan on participating in, or supporting the strike, there are some feminist t-shirts that are perfect for the event. And if the Women's Strike is anything like the Women's March, it is sure to make an impression on the country and the world.
The current political climate has inspired a lot of great feminist t-shirts, from the Nasty Woman t-shirts that emerged after Donald Trump's sexist remark to Hillary Clinton during a debate to "Nevertheless, she persisted" tees after Mitch McConnell silenced Massachusetts senator Elizabeth Warren. But there are also just plenty of great ones out there, because let's face it, women's rights have been a significant issue since, well, forever.
And now, more than ever, is a great time to show your solidarity with women, whether you're marching on the mall or wearing a feminist hat to the grocery store. Every little thing counts.
There are so many awesome feminist shirts you can rock on March 8 and every day, so get your wallets ready.
1. The "I Will Not Be Silent Sweatshirt"
I Will Not Be Silent Sweatshirt, email info@linguafranca.nyc for orders
Lingua Franca has so many cute sweatshirts that make a political statement. This one is perfect for women who want to speak out about inequality.
2. This Witty Tee
Girls Just Want To Have Fundamental Human Rights Tee, $30, Femenist Apparel
A great play on a great song.
3. This Feminist AF T-Shirt
Feminist AF T-shirt, $30, Etsy
Simple and perfect.
4. This Nevertheless, She Persisted Sweatshirt
Nevertheless She Persisted Sweatshirt, $15, Etsy
Elizabeth Warren won't stop and neither should you.
5. The Classic Nasty Woman Tee
Nasty Woman T-Shirt, $25, Google Ghost
This shirt got so much attention during the campaign and for good reason. Half of the proceeds go to Planned Parenthood.
6. This Reformation Action Tee
Meow Tee, $50, Reformation
With each Meow tee bought, Reformation will donate $30 to Planned Parenthood.
7. This Snarky Tee
Torch Your Bra Tee, $18, Amazon
This is a classic feminist tee if I've ever seen one.
8. The Future Is Female Tee
The Future Is Female T-Shirt, $30, Other Wild
Enough said.
9. This Pussy Grabs Back Tee
Pussy Grabs Back, $32, Female Collective
Feminist AF.
10. This Dope Girl Power Tee
Girl Power, $30, Female Collective
Iconic.
11. And Lastly, This Classic Feminist Tee
Feminist Classic T-Shirt, $30, Feminist Apparel
Can't go wrong with a simple feminist tee. It'll really get people (read: men) riled up, too.