11 Women Share What It Was Really Like To Say "I Love You" For The First Time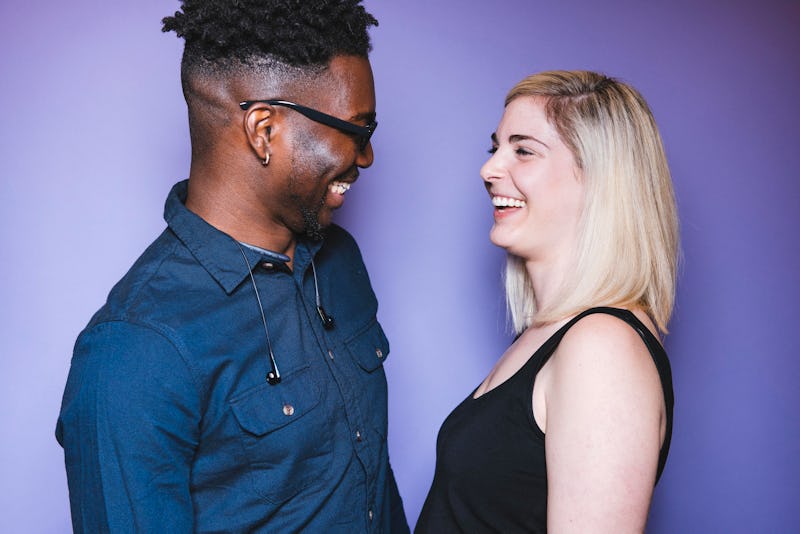 BDG Media, Inc.
The feeling of falling in love with someone can be scary, but actually saying "I love you" for the first time can be even more terrifying. After all, should a certain amount of time go by before you say it? Should it be when you're alone together? When you're having a romantic night? When you're having fun together so you can keep it casual? According to some relationship experts, there is no "wrong" way or moment to say it.
"There is no perfect time or place," Toni Coleman, a relationship coach and divorce mediator, tells Bustle. "The right time won't happen because your partner is in a good mood or you are enjoying something special together. It will be the right time because you are both feeling something special for the other, and your connection is undeniable." She says that, usually, that first "I love you" just happens, often when people least expect it.
David Bennett, counselor and relationship expert with Double Trust Dating, says that saying "I love you" can be scary. "So many emotional factors go into saying it," he tells Bustle. "It requires vulnerability and also courage, because you have to take the risk to say it when there is a possibility the other person may not respond in kind. I believe it's worth the risk, because falling in love — and expressing it to that person you fell for — is one of the most amazing things a person can experience."
Below, women reveal what it was like when they first said "I love you." So if you want some saying-"I-love-you" inspo, look no further.
This article was originally published on