12 Funny Thanksgiving Memes To Share With Friends & Family This Week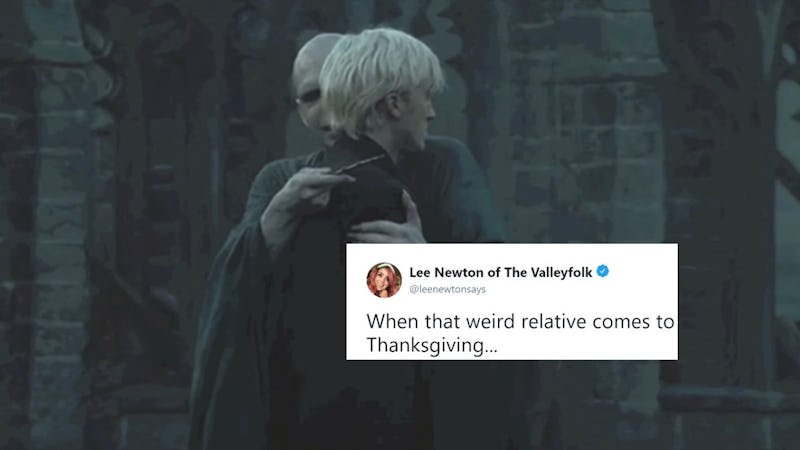 Warner Bros. Pictures; Twitter
'Twas the night before Thanksgiving, and all through the house not a creature was stirring… except for all of the social media enthusiasts busy scouring the internet for funny Thanksgiving memes to share in 2018. I mean, hey, you've got to keep yourself entertained somehow while avoiding awkward conversations with extended family members who still treat you like you're 10, even though you're a full-grown, fully-functioning adult, right?
Nothing brings out the meme machine quite like holidays do — particularly the holidays which tend to be centered around large gatherings and sharing meals (although it's also worth noting that there's nothing wrong with spending any holiday on your own if that's what floats your proverbial boat). Accordingly, Twitter is currently awash in Thanksgiving-related comedy. From ongoing trends like that whole "Hey, Mom, how long do you microwave a 25-pound turkey for?" thing to one-offs and single shots, funny folks all over the internet have been sharing their best jokes and witticisms — all of which will probably make you and your friends, family, and loved ones snorting into your turkey or snarfing your pie.
Here are 12 highlights. Share 'em with your favorite people this year. Yes, even the aforementioned extended family members who still treat you like you're 10. Who knows? Maybe a pointed joke will make them laugh and finally convince them you deserve to be treated like the grown-up you are.