12 Bachelor Contestants Every Fan Was Wrong About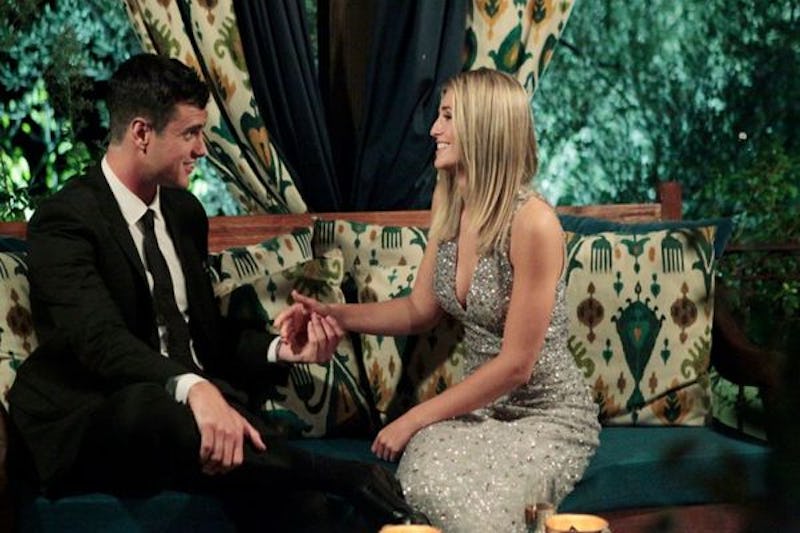 Being a contestant on one of The Bachelor franchise shows is tough. You might leave with tons of fans, or you might piss everyone off — and that's totally liable to change at any time. In fact, there are a lot of Bachelor contestants people love that they used to hate, and most of that can be attributed to the social media posts they've shared and the interviews they've done after their time on the show.
Because if we're being real, it's not like a show like The Bachelor is going to give fans that much of an opportunity to get to know who someone really is. There are so many people on each season that individual screen time is limited, and it seems like a difficult environment to truly open up and be yourself in to begin with. But once the cameras are off and these contestants have the chance to get back to their lives (and sometimes, even explain their behavior on the show), the way fans perceive them could totally change.
These contestants may not have been fan favorites when they were contestants on The Bachelor or The Bachelorette, but it didn't take long for them to gain a following once their season was over.
Caila Quinn
When she was competing for Ben Higgins' heart, Caila wasn't exactly a fan favorite... but since the show, she's gained a major following. Her Instagram is absolutely gorgeous, and she's taken the opportunity to share the secrets of her magical hair with fans. What's not to love?
Corinne Olympios
Corinne was pretty widely hated during her time on The Bachelor. Seeing her break the rules to get extra time with Nick Viall didn't exactly do her any favors with fans, and most people were put off by the fact that she had a nanny as an adult. But she managed to make a major comeback when she let her true self show through after the show, and she managed to launch a clothing brand based on her most popular quotes from her season.
Olivia Caridi
On Ben Higgins' season, Olivia made a few missteps, and even managed to become a meme after she became known for opening her mouth wide. But hearing her talk about how she was bullied after the show was eye opening for a lot of fans, and seeing how she's able to make fun of herself makes it clear that Olivia's actually a pretty cool person.
Nick Viall
Nick's had a long, illustrious history with The Bachelor franchise, but after two seasons of The Bachelorette, Nick wasn't exactly a fan favorite. However, his hilarious commentary and how down to earth he seemed on Bachelor in Paradise changed things for the better, and even though people are mixed after watching him as The Bachelor, his image has totally changed.
Evan Bass
Evan was so awkward on The Bachelorette, and his romance on BIP with Carly Waddell was cringeworthy at times. But seeing how much he loves Carly and how adorable their relationship actually turned out to be made it impossible for fans not to love him, too.
Danielle Lombard
Danielle L. was known as a villain on Bachelor in Paradise, thanks to the awkward love triangle between her, Dean Unglert, and Kristina Schulman. But seeing how well she handled such a weird (and publicly broadcast) situation earned her a lot of points with many fans who now love her.
Ashley Iaconetti
On Chris Soules' season of The Bachelor, fans weren't totally sold on Ashley's Kim Kardashian comparisons and long false eyelashes. But after the show — and two seasons pining for Jared on Bachelor in Paradise — Ashley's gained a lot of favor. In fact, people are loving her on social media and on her podcast, I Don't Get It.
JJ Lane
Bachelor in Paradise can do big things for a former contestant's image, and fortunately, in JJ's case, those things were positive. His bromance with Clint Arlis made him somewhat of a villain on Kaitlyn Bristowe's season of The Bachelorette, but when he had the chance to show what a genuine guy he is on BIP, everything turned around for him.
Jason Mesnick
Jason turned off a lot of fans when he broke things off with fiancé Melissa Rycroft to start a relationship with his runner up, Molly Malaney — on camera during After The Final Rose, no less. But he and Molly are still going strong and have a really adorable family, so it looks like he definitely followed his heart, which has made plenty of people like him more for it.
Michelle Money
Michelle was definitely painted as the victim on Brad Womack's season of The Bachelor, but in real life, it doesn't seem like she's that way at all. In fact, when she dated Bachelorette contestant Cody Sattler, fans were seriously rooting for her. Now, she's dating golfer Mike Weir, and seems to be enjoying her post-Bachelor life.
Britt Nilsson
Britt wasn't everybody's favorite on The Bachelor — the way she seemed to monopolize Chris Soules' time made her an enemy of many of the other women on his season, plus fans weren't crazy about her either. But she's kept it so real since the show, opening up about serious issues going on in her life, like her struggle with an eating disorder. These days, it's hard not to root for her, especially as she's living happily ever after with her new husband, Jeremy Byrne.
Jordan Rodgers
Pretty much everyone had their doubts about Jordan when JoJo Fletcher chose him as her winner on The Bachelorette — people were mostly worried that he was using her for fame. But fortunately, that's not the case, and more than a year later, they're still together and crushing the adorable couple Instagram game. With how happy he obviously makes JoJo, it's easy to love him, too.
Some Bachelor villains stay villains forever, but others can change fans' mind. Future villains, take note: a summer on BIP and an awesome social media presence can make you a hero.