Why 'RHONY' Is My Favorite 'Real Housewives' Show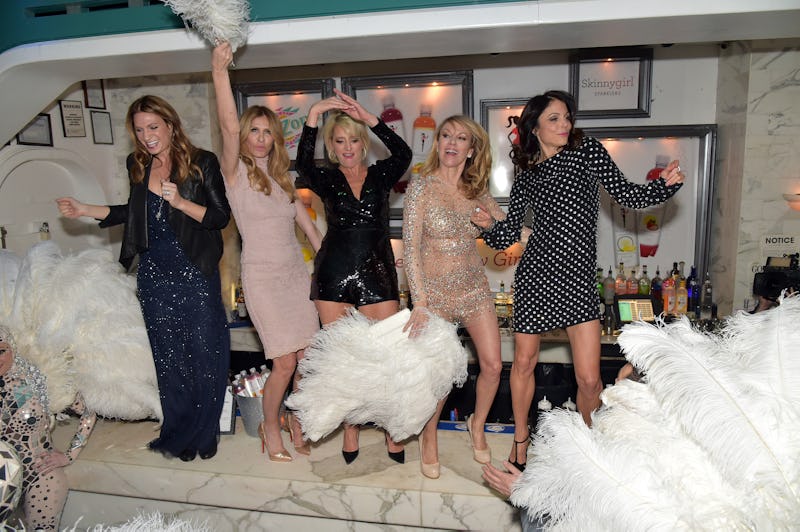 Theo Wargo/Getty Images Entertainment/Getty Images
If you consider yourself a huge Real Housewives fan, then you most likely have a favorite city. Mine? Well, it is of course none other than the Real Housewives of New York City. Don't you worry when I say I am beyond prepared to explain why RHONY is my favorite show in the Real Housewives franchise. Forget about Orange County, Beverly Hills, New Jersey, Atlanta, Potomac, and Dallas, because they are nowhere near close to the greatness that is New York City.
As someone who is obviously a huge Housewives fan, I do love each city for its own unique reason. It is an all-around entertaining franchise that, yes, even sends out feminist messages from time to time. Though, there is just something extra special about RHONY. Whenever a new season begins, a new teaser is released, or new drama unfolds, the excitement that consumes me is incomparable to the other cities. These women know how to keep me invested in a series that sometimes gets old — and boring (I'm looking at you Real Housewives of Beverly Hills).
Those who agree with me will totally get what I'm saying. Whether or not you consider RHONY your favorite out of the entire franchise, it doesn't really matter, because there is no convincing me otherwise — and here's why.
The Housewives
A great group of Housewives manages to make up each RHONY season. There are, of course, the staples who have made the series what it is today, including Ramona Singer, Luann D'Agostino, and Bethenny Frankel. These three have been around since day one (with Bethenny leaving and coming back later), but they couldn't have produced such greatness all on their own.
Yes, Season 4 wasn't the best, especially since Bethenny left, but that's also the year Sonja Morgan joined and made the show even more spectacular. As difficult as it may be to get acquainted with a new Housewife, somehow everyone manages to mesh so well and create another enjoyable season.
Remember when Heather Thomson, Kristen Taekman, and Carole Radziwill came on in Season 5? What about Dorinda Medley in Season 7? Heather and Kristen may no longer be part of the series, but these four were super additions. Can you imagine RHONY without them? The story lines and drama fans have come to know and love would be nonexistent.
Basically, RHONY rarely ever fails in the Housewife casting process.
The Strength
Some of these ladies have been through a lot. Many have bared their entire lives and souls on television for the world to see. That takes an immense amount of courage. Many of them have also managed to turn their lives around for the better and start living life for themselves.
From Ramona's divorce from Mario Singer after 20-plus years of marriage to Bethenny's public split from Jason Hoppy to Carole and Dorinda opening up about their husbands' deaths to Luann dealing with that Tom D'Agostino mess, the strength that these women have managed to maintain after everything they've endured throughout their entire lives is inspiring.
The Business Ventures
One of the great things about the Housewives franchise is how the women pursue their dreams and get into different areas of business. Then there are some career opportunities the women try that may be better left alone. Granted, the latter does make for some entertaining and hilarious moments.
As for RHONY, yes, you have Bethenny's impressive Skinnygirl line, Carole's fabulous writing career, Heather's super successful Yummie collection, and Cindy Barshop's famous Completely Bare laser hair removal company, among many others. But then you also have some of the women pursuing other dreams that don't really go as expected. For example, Luann's singing aspirations. She's definitely made a name for herself with songs like, "Money Can't Buy You Class," "Chic, C'est La Vie," and "Girl Code." However, she's certainly not winning a Grammy anytime soon.
Then, you have Sonja, who is an "international fashion lifestyle brand" supposedly expanding her projects all over the world. Her businesses have been quite the whirlwind. From her nonexistent toaster ovens to her miraculous clothing line, Sonja Morgan New York, she brings the Housewives business ventures to a whole new and fabulous level.
The Drama
There is no drama like RHONY drama. What other city has a Housewife taking off her prosthetic leg and throwing it on the ground to make a point that it's the only "fake" thing about her? This is exactly the type of over-the-top situation that only happens in New York City.
Then, you have that time Aviva Drescher wasn't taking off her leg, but calling Ramona and Sonja "white trash," Bethenny showing Luann that unfortunate photo, and Bethenny telling Jill to "get a hobby," among many, many other dramatic moments. No other Housewives drama will ever be as superb as RHONY's.
The Friendships
As much as these women argue, they have built some beautiful friendships. Sonja and Ramona have had many ups and downs, but they somehow manage to remain BFFs — and the most entertaining duo. Then, there is Carole and Bethenny, who have formed a super tight-knit friendship that appears to be actually genuine. That is something that's not easy to find in the Real Housewives world. Here's hoping nothing comes in between them to destroy that. There is also Luann and Dorinda's relationship. I mean, Dorinda was the only current RHONY star invited to Lu's wedding. Heck, she even served as a bridesmaid.
The best part about these friendships is the women don't always get agree, which is OK. They always tell their bestie exactly how they are feeling without mincing words or the truth. Isn't that what friendship is all about?
The Trips
The RHONY women know how to travel and vacation with drama. Allow me to just give you a few examples of trips and the incidents that came with them.
Season 3: Scary Island, aka where Kelly Bensimon did not have the time of her life at St. John's and Jill's surprise arrival wasn't welcomed — at all.
Season 4: Morocco, aka where a psychic claimed to Ramona (via Luann's translation) about her marriage to Mario, "There's another woman."
Season 5: "Slutty Island," aka where Aviva called Ramona and Sonja "white trash" and that Johnny Depp lookalike pirate showed up.
Season 6: Montana, aka where Kristen tried to plan a fun trip and all Ramona did was complain and Kristen and Heather had an epic fight.
Season 7: Turks & Caicos, aka where Luann delivered her most famous one-liner, "Be cool, don't be all uncool" to Heather, who was less than thrilled that some of her fellow houseguests brought back random men.
Season 8: Palm Beach, aka where Bethenny dropped that huge bombshell about Tom on Luann.
Do I really need to explain any further?
The Events
Have you ever noticed when Real Housewives get together for some type of event things never go quite as planned?
As for the RHONY ladies specifically, well, their events either range from absolutely ridiculous to extreme drama. Remember that time Sonja broke her tooth in Season 7 at Bethenny's Skinnygirl party, because she ripped off a guys shirt with her teeth?
Then, there are events like when Dorinda hosted that bra party in Season 8 and Bethenny went at it with John Mahdessian. Oh, yeah, Ramona got in on the action, too. The party went from simply trying on bras to John crashing the party and basically coming for Bethenny and her business. These are the things that happen in the RHONY world.
The One-Liners
There are no other one-liners, like the ones delivered on RHONY. From "What are you doing here without Dorinda?" to "We always have a great night!" to "Be cool, don't be all uncool" to "Get off my jock" to "I made it nice!", no other Housewives will beat RHONY in this department. Of course the other cities have remarkable one-liners, like, "Who said that?" Though, New York's lines will always have a special place in my heart.
The Reactions
Let's think back to that epic Berkshires fight in Season 8. All of the women (minus Sonja, who wasn't invited) headed to Dorinda's home. Rather than it being a fun weekend, it turned into a nightmare from hell. Poor Dorinda planned a lovely night, but things went south quickly between Bethenny and Luann. Thanks to these two arguing over whether or not Luann sleeps with a lot of men and why she can't just admit it, Dorinda ended up reacting in the most epic way. In an unforgettable speech, she declared, "I decorated! I cooked! I made it nice!"
These are the kind of reactions typically delivered when some type of drama goes down on RHONY. How can you any beat that? Oh, yeah, you can't.
The Dancing
Have you ever noticed how much and how often these women dance? They just really like to partake in "turtle time" and I don't blame them one bit. They are also both equally great and horrible dancers all at once. I don't know how that is possible, but it is, and that's just another fantastic element of the series.
The Gifs
This gif is proof enough.
Thank you, RHONY, for continuing to be the best.