'Life Size' Is Still One Of The Greatest DCOMs Ever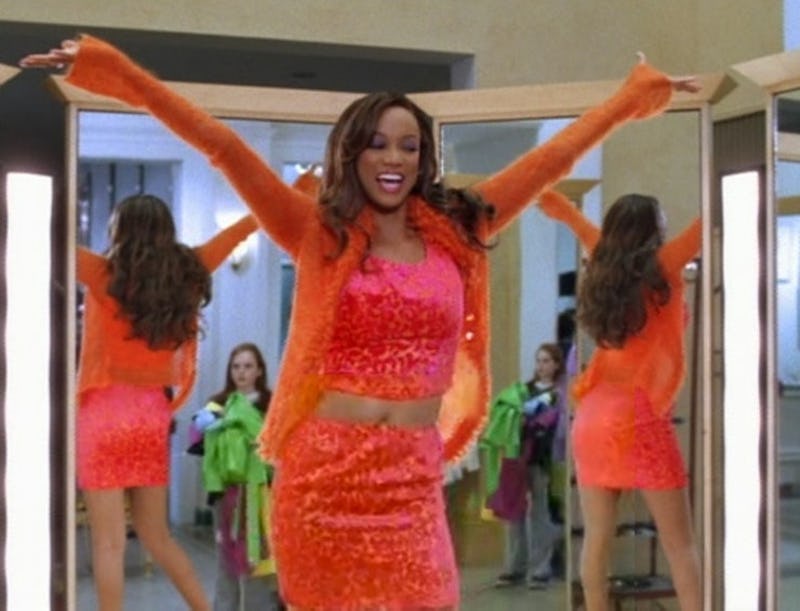 Walt Disney Television
One of the best Disney Channel Original Movies is coming back to the small screen, which is awesome considering it really never left fans' hearts. Tyra Banks will star in and executive produce the progressive Life-Size sequel, which will air on Freeform sequel in the winter of 2018. If that seems like a long wait, don't despair: that's just more time in which fans can revisit the original Life-Size movie in all its glory.
In many ways, the 2000 Disney Channel Original Movie was both completely unique and ahead of its time, making it truly iconic. The film stars young Lindsay Lohan as Casey, a girl who accidentally brings her doll Eve (Banks) to life while mourning the loss of her mom. The film was a special balance of heartwarming, funny, and inspirational, tackling topics like embracing individuality and female empowerment without being preachy.
When it comes to choosing a favorite DCOM, the competition is tough. The possibilities were limitless and the era was unlike any other. However, it can totally be argued that the quirky, imaginative, tear-inducing Life-Size is one of the greatest DCOMs of all time for all of the below reasons and many more.
1. It's A Fantasy
Fantasy is a staple of the best DCOMs. Some of the Hall of Famers in addition to Life-Size include Zenon, Halloweentown, and Smart House. Though they were all semi-rooted in reality, nothing was impossible on Disney Channel, and it always allowed kids to wonder "What if?"
2. Eve Was Fearless
So Eve may have seemed a little weird to people of the real world. But didn't she care. In fact, because she didn't know what was and wasn't "normal", she proved that anything is possible. I don't think that's naive; I think it's pretty boss.
3. Women Supported Women
Although Casey was a bit frazzled when Eve came to life and felt threatened by her perfection (and blossoming romance with her dad), she eventually came around. Eve celebrated Casey's individuality and made her feel beautiful, and Casey ultimately learned to respect for Eve and show her it's OK to be flawed. Girl power.
4. There Was An Interracial Romance
Amidst all the "drama" from the interracial relationship presented on The West Wing in March of 2000, Life-Size premiered the same month, and its interracial romance was NBD. Although Eve and Casey's dad Ben (Jere Burns) were never full-blown boyfriend and girlfriend, they certainly flirted and showed romantic interest in each other. Still, their different races were never a point of contention, because their bond was most important — an important lesson for kids to see.
5. The Film Was Hilarious
Life-Size is also a display of comedic genius. Even if jokes were made at Eve's expense because of her ignorance of how things worked in the real world, it was all in good fun.
6. Those Costumes Were On Point
Eve's fabulous looks as a doll were translated to human form, and thank god for that. She had extravagant gowns, bold, colorful pieces, and hats that would make the Queen of England jealous. And Eve shamelessly rocked it all.
7. It Proved That "Perfect Is Boring"
When Casey tried to get Eve to be "normal," Eve just wasn't having it and still did her thing. On the flip side, Casey taught Eve how to let go of being good at everything and to not take herself to seriously. Another important lesson for young girls to learn.
8. Eve Was Blunt AF
Apparently, Sunnyvale doesn't teach its citizens how to have a filter, which is pretty amazing. Eve always said the first thing on her mind no matter how it made her look, which is still refreshing to watch today.
9. Tyra Banks' "Be A Star" Performance Was Amazing
Need I say more? Just a few years before becoming the frontwoman of America's Next Top Model, Tyra Banks put on the performance of a lifetime in Life-Size. "Be a Star" is still as catchy now as it was in 2000, with the age-old, inspiring lyrics: "Shine bright, shine far, don't be shy, be a star."
10. The Film Had A Refreshing Take On The Barbie Doll
Rather than bringing a typical Barbie to life, Life-Size showcased the glamour, brains, and wit of a real-life doll who was a WOC. The movie never makes a point of her race, while merely showcasing Eve as a woman who loves herself and a role model young girls want to be.
11. Eve Was A Doll With Intellect
Eve's brains and morals always shined through her naivety. The film would take plastic doll cliches like, "It's fun to dress up, I look awesome!" and follow them up with a line like, "Love animals, don't wear them."
12. Eve Was The OG Role Model
The comedy and costumes made Eve one-of-a-kind and fabulous, but it was her mindset and mission that made her a true DCOM icon. "Even though I do so many things, my real purpose in life is to help girls. I strive to present a positive image of womanhood," she said. Back then, Eve helped nip negative competition among females in the butt and help them boost each other up.
Life-Size is iconic for a reason, and the lessons that it taught will always be relevant.