Taylor Swift's Outfit Looks Like These 13 Things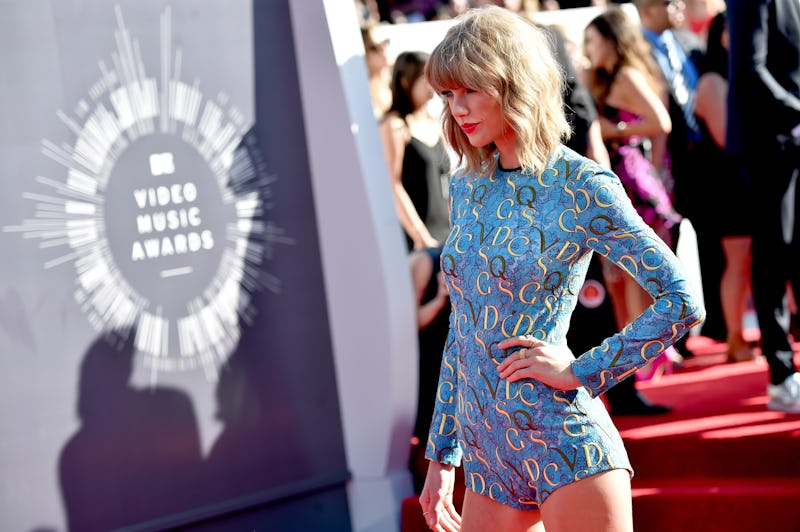 Frazer Harrison/Getty Images Entertainment/Getty Images
Unless you want to get in a really annoying fight, don't ever talk bad about Taylor Swift in my presence. She's perfect, OK? And all that BS about her having too many boyfriends is just ridiculous. However, I will admit that the generally flawless Swift may have might a slight sartorial misstep on the red carpet on Sunday night. Taylor Swift wore a teal romper to the VMAs that was slightly less flattering than her usual vintage-inspired dresses.
Yeah, it was slightly too short for her fabulously long legs, but I still give Swift major props for doing something totally unexpected for once. I mean, it was no Katy Perry and Riff Raff matching denim outfits, but it was still a fun look for the 2014 VMA red carpet. Plus, the pretty blue was actually quite nice against Swift's blonde hair and fair skin. If only the fit had been slightly better, this could have been a big hit.
That being said, it wouldn't be very much fun if we just ignored how many non-clothing things the outfit looked like, right? Unfortunately, there weren't any vowels on the jumpsuit, so it definitely wasn't a sneak peak of lyrics from her new album, 1989 , which comes out in late October of this year.
1. Boggle
2. Lil DeVille From Rugrats
3. Ariana Grande In 2012
4. The Riddler From Batman
5. A Crossword Puzzle
6. The Breaking Bad Opening Credits
7. This Business Acrostic
8. A Tropical Fish
9. Some Havaianas Flip Flops
10. The Alpha-Bits Cereal Logo
11. A Peacock
12. A Figure Skater Dressed Like A Peacock
Images: Hasbro; Nickelodeon; Getty Images; IMDB (3); AMC; Havaianas; StarJumper, Pavel Parmenov, Sergey Skleznev/Fotolia.com; Post Cereal