These Are The 13 Best Dog Breeds For People With Anxiety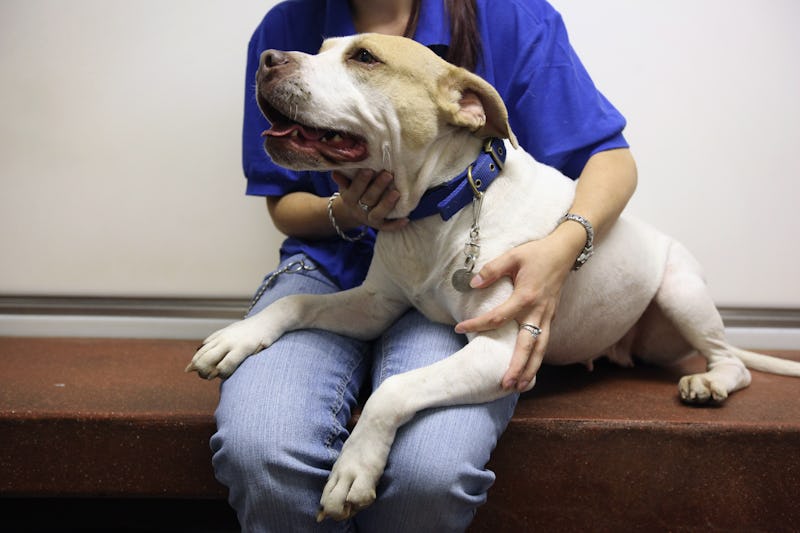 Dan Kitwood/Getty Images News/Getty Images
If you're a dog lover, then you already know about the incredible healing powers they have. Simply being around a dog can make you feel more at ease by lowering your heart rate, distracting you from worried thoughts, and even providing the confidence (and companionship) you need to get out of the house. And yes, this is all supported by science. But did you know that there are specific dog breeds that can help you fight anxiety?
"The simple act of skin touching fur has the ability to create and release serotonin, melatonin, and endorphins into our system, which creates a feeling of calm and well-being," Dobie Houson, an animal communicator and award-winning author, tells Bustle. "HABRI, the Human Animal Bond Research Institute has a wealth of information. According to their research, animals assist humans by reducing loneliness, improving one's sense of purpose, improving confidence, and reducing anxiety." And when it comes to these qualities, the breed doesn't matter. If you're ready to adopt a dog, or simply want to spend time with one, hanging out with poodles, pitbulls, labs, terriers, mutts, and mixes of all of the above will do the trick.
But when it comes to how you like to reduce your anxiety, some breeds may be more relaxing for you than others. It all "depends on the way the individual eliminates their stress," therapist Kryss Shane, BS, MS, MSW, LSW, LMSW tells Bustle. There are several breeds that are known for their abilities as companion and therapy dogs, breeds that tend to fair better on planes with anxious fliers, and breeds that can make you feel safe. Here are a few dogs experts say you should consider spending time with, if you have anxiety.