13 Delicious Things You Can Eat At McDonald's From All Around The World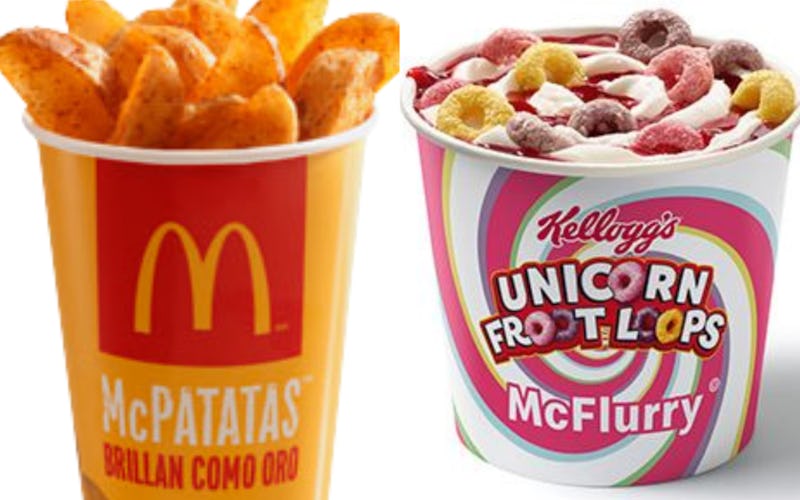 McDonald's
I will admit that "I must eat at McDonald's" is not usually the first thing I think when I'm about to travel to another country. I'm usually excited about that country's food in general, of course — food is one of my favorite things — but McD's? I mean… we've got that right here in the United States, right? But, like many fast food companies based in the United States, the menus at international McDonald's locations have a wealth of items not available in the U.S. — and, to be honest, some of them are kind of giving me FOMO.
I know. FOMO. Over McDonald's. I'm surprised, too. Ah well; stranger things have happened, I guess.
The very first McDonald's — or at least, the first McDonald's as we know it; brothers Mac and Dick McDonald tried a few other ventures first — opened in 1948 in San Bernardino, Calif. The McDonald brothers started franchising in 1952, and shortly thereafter, Ray Kroc bought first a franchise, and then the entire company. From there, the goal was standardization — with motorist culture steadily rising, the idea behind McDonald's was for folks to be able to get familiar, reliably tasty food no matter where they traveled to.
Decades later, McDonald's isn't just limited to the United States; it's a worldwide entity. But as the company began to go international… well, the definition of "familiar, reliably tasty food" changes depending on where you are, so each although each country's franchises offer McD's classics like burgers and fries, a lot of locally-inspired items make their way onto the menus, too.
These 13 struck me as particularly notable, although they're by no means the only international McD's items I, uh, kind of wish I was jamming in my face right this very moment. Anyone want to tell me how these are so I can live vicariously through you?