13 Of The Best Plus Size Dresses & Jumpsuits For New Year's Eve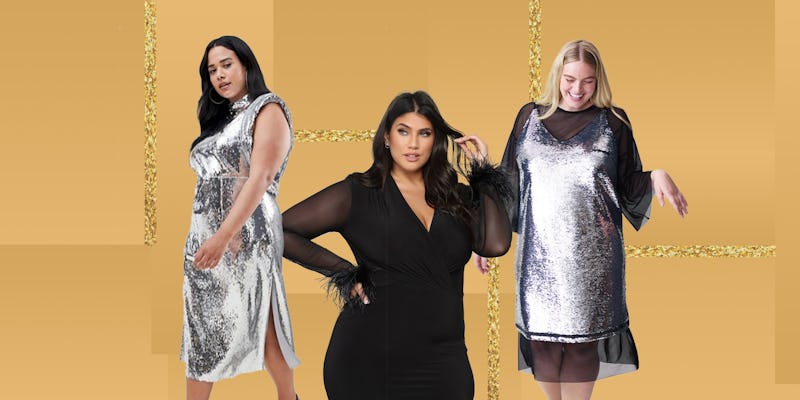 Caroline Wurtzel/Bustle
I love a good party. But I probably love sitting at home watching Homeland until my eyes glaze over a little more. This is why, for me, New Year's Eve is a great excuse to finally peel myself off the couch and find an excellent celebration — even if most weekends I opt for the TV marathon scenario instead. Because I do love occasionally getting dressed up while blaring Robyn songs. I love picking out an outfit that makes me feel like a Real Housewife. I love the eventual realization that sequins make me break out in a rash and wearing something else instead. It's fun. Something that's not so fun, though? Finding plus size New Year's Eve options.
Sure, there are plus size pieces out there, but the further you are from a size 12 or 14, the fewer options you have. Your search quickly goes from having all the choices in the world to having just a handful of stores and pieces to choose from. It's frustrating because, this just in: not every plus size person wants to wear the same damn dress.
Luckily, there are more and more inclusive fashion brands popping up these days, providing us with more options. It's still not even close to as many options as people under a size 14, but there is progress happening nonetheless. Whether you're searching for a badass jumpsuit, a velvet ensemble, or a classic sequined dress, these are the newest, best New Year's Eve options if you're plus size.