13 Scary Short Stories You Can Read Online To Get In The Halloween Spirit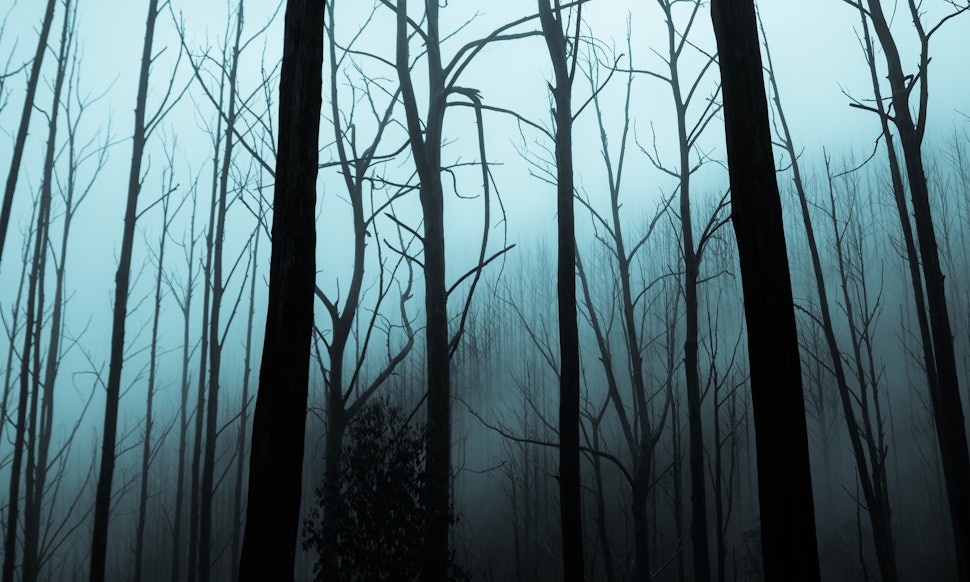 Jack Cain/Unsplash
The season for spooky ghosts and creepy ghouls is finally upon us, folks! If you need a little nudge to get you ready to jump into your finest costume, I have picked out 13 spooky stories you can read online to get you into the Halloween spirit. Put down that pumpkin-carving knife as soon as you can, pour yourself a hot beverage, and settle in for one of the best creepy tales the Internet has to offer.
Horror fiction has a long history, beginning with Horace Walpole's The Castle of Otranto way back in 1764. More than 50 years later, a teenager named Mary Wollstonecraft Shelley came along to shock the gothic fiction genre with a science-fiction twist, and readers everywhere have been enjoying chilling tales ever since.
Some people like nothing more than being scared out of their wits, and others just can't stand it. If you are anything like me, you can get down with being terrified from time to time, but you mostly just want to leave a peaceful, nearly Hobbit-like existence. Wherever you fall on the spectrum, the spooky stories I have picked out for you below will bring just the right kind of Halloween-y thrills to your October.
Now, if you came to this list looking for your standard collection of ghost stories, you might be disappointed. I have chosen stories that run the gamut from science fiction to fantasy, and everything in-between, because any story can be spooky if you try hard enough. This list includes webcomics, creepypasta, and classic stories from your favorite, spooktacular writers, including Ray Bradbury (Something Wicked This Way Comes), Joyce Carol Oates (The Accursed), and Karen Russell (Swamplandia!). Some of the stories have their moments of humor, while others are just downright unsettling.
That kind of broad selection means that, no matter what your horror-fiction tastes are primed to enjoy, you will find something to love among the 13 spooky stories I have picked out for you on the list below. Best of all, every last one of them is available to read online for free! And every book nerd knows that there is nothing better than free literature, am I right?
Check out my 13 Halloween-inspired reading suggestions on the list below, and be sure to let me know what your favorite spooky tales are by sharing your October reading list with me on Twitter! Happy Halloween, and happy reading!
"The Bongcheon-Dong Ghost" by Studio Horang
A screamer story about a ghost looking for its baby, this animated webcomic from Studio Horang will scare the pants off of you — then compel you to share it with everyone you know.
"Candle Cove" by Kris Straub
Anyone who has read this creepypasta knows just how haunting the story of the pirate-puppet kids' show is. If you haven't read Kris Straub's epistolary tale, you absolutely should. Just prepare to watch the TV out of the corner of your eye for a while.
"Hello, Moto" by Nnedi Okorafor
Binti author Nnedi Okorafor blends fantasy, science fiction, and horror in this short story about a witch who makes technologically advanced wigs for herself and her best friends.
"Twittering from the Circus of the Dead" by Joe Hill
Another New Media-esque story, Joe Hill's "Twittering from the Circus of the Dead" takes the form of a series of tweets from its young protagonist, whose parents may have made some very bad decisions regarding the future of their family.
"Our Neighbor's House" by Emily Carroll
Unseen horror takes center stage in Emily Carroll's graphic story short about three sisters who disobey their father's command to go to their neighbor's house in the event that he does not return from his hunting trip.
"Jade, Blood" by Silvia Moreno-Garcia
I think cenotes are naturally unsettling places, but wait until you read about the one in Silvia Moreno-Garcia's weird-fiction story, "Jade, Blood." If you have one of those formations near your house, you'll be giving it a wide berth for the foreseeable future.
"How to Get Back to the Forest" by Sofia Samatar
The Winged Histories author Sofia Samatar shines in this dystopian short story about teenage campers who might not be as delusional as they seem.
"The Russian Sleep Experiment" by Holly Ice
I feel honor-bound to tell you that this story is not, in any way, a documentary. It is not real, no matter how real it sounds. The papers on the windows are not real. The people beneath the cameras are not real. None of it is real.
"Redcap" by Carrie Vaughn
All the best fairy tales and folk legends have a little bit of horror to them, and Carrie Vaughn's "Redcap" is no exception. This story about what happens to those who wind up in a fairy circle will keep you on the edge of your seat.
"The Veldt" by Ray Bradbury
In this 1950 story from Fahrenheit 451 author Ray Bradbury, well-meaning parents notice some disturbing changes in their children's behavior after they move into a home designed to care for their every want and need.
"Bog Girl" by Karen Russell
Fans know Karen Russell by her offbeat sense of humor, which plays a critical role in this short story about a young peat harvester who falls in love with the bog body he finds.
"A Collapse of Horses" by Brian Evenson
After an on-the-job accident puts him out of work, a man begins to notice the increasing instability of his world, and to question its reality, in this story from Last Days author Brian Evenson.
"Where Are You Going, Where Have You Been?" by Joyce Carol Oates
Written for Bob Dylan, this 1966 short story from Joyce Carol Oates centers on Connie, a 15-year-old problem child who winds up targeted by a mysterious, evil man in a gold convertible.