Kenny The Wrestler Has A Pretty Fun Life Off 'The Bachelorette'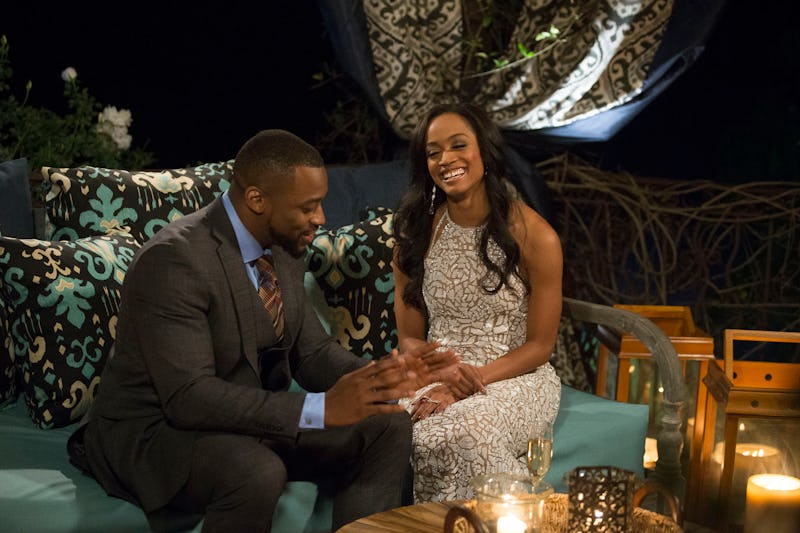 ABC/Paul Hebert
We're just three weeks into Rachel Lindsay's season of The Bachelorette, but now we're starting to see who her suitors really are. After the dramatic situation with DeMario's ex-girlfriend last week, I'm excited to learn more abut the other men she gets to choose from. Specifically, I want to know more about Bachelorette contestant Kenny, the wrestler. On last week's episode, Kenny, who has a 10-year-old daughter at home, took part in the baby relay group date and couldn't beat out Whaboom dude, which was super unfortunate. He did get to sit down with Rachel later and we learned a little about his life, but he talked mostly about how he wants to find someone for himself and his little girl. That's pretty much all I know about him at the moment. Thankfully Kenny's Instagram will rescue Bachelorette fans who are dying to know more.
From Kenny's Bachelorette bio on ABC, we also know that he's a big fan of The Rock, as is every other human on this planet. Seriously, if you don't love The Rock, something is wrong with you. He's also a fan of Denzel Washington. Another celebrity that's universally loved. He believes in the power and romance of sending edible arrangements and would love to have lived during ancient Egyptian times. Those are just the basics. I decided to look through Instagram to get a real sense of what Kenny King's real life is like and what Rachel may have in store for her possible future with him.
Being A Great Dad
First and foremost, Kenny is a father to an adorable 10-year-old daughter named Makenzi. His Instagram shows that most of his time is spent caring for her and being a dad.
He Wrestles
Part of Kenny's real life is his work as a professional wrestler. Of course we knew that from the show, but we didn't know this is what he looks like outside of a suit. Welcome to Pretty Boy Pitbull Kenny King's real life.
He Makes Healthy Meals
On top of being a dad and a wrestler, Kenny can also whip up a great dinner. He made baked salmon, lemon pepper asparagus, and shrimp scampi. "Ladies don't settle for any out-of-the bag dinner or take out every night. Get you a man that can throw down," he captioned the photo.
He Plays Video Games
He's a Madden champ, it would seem.
He Sings At The Top Of His Lungs
Watching TV with Kenny probably isn't a dull activity.
He's Got A Sunday Tradition
He takes his daughter to church on Sundays and then to Buffalo Wild Wings to watch some football.
He Hits The Shooting Range
Sometimes, according to Instagram, Kenny makes sure to get some target practice in. He even takes his daughter with him.
He Goes To Topgolf
Casual night out with his dad at one of the greatest places ever.
He Plays Chess
Now I don't know much about chess, but it seems like the dark pieces are winning, so hopefully that's Kenny's side.
He Wants To Find A Wife And Chill
I assume that before he came on the show (and probably after, if he doesn't win), part of Kenny's real life is dating. You know what I say to this Instagram Kenny? Same.
He Travels A Lot
Between wrestling and his regular life, Kenny is on the road a lot, posting fun pics from the different cities he goes to.
He Hits The Gym
Not surprising considering his career choice.
He's This Kind Of Dad
Also known as the best kind. This is amazing.
Whoever ends up with Kenny (and his daughter) is going to have a seriously fun life.