Danielle L.'s IG Is One For 'Bach' Fans To Watch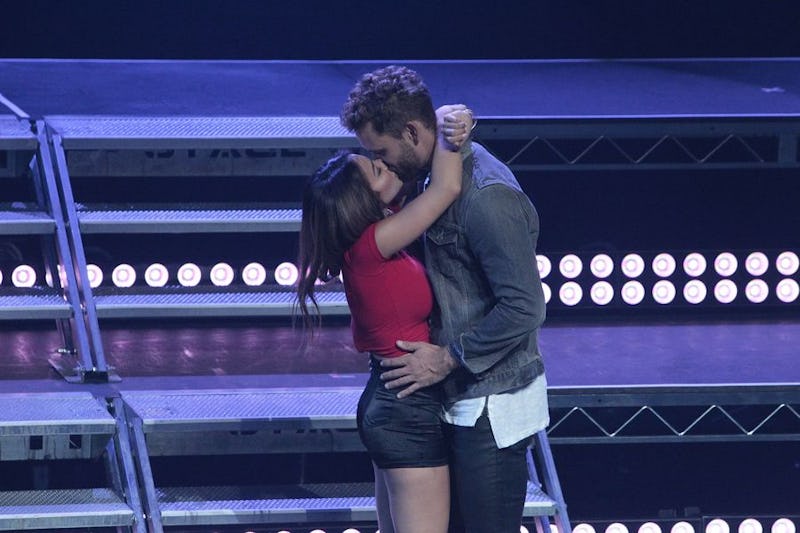 Rick Rowell/ABC
There are many truths about love. Love is about joy, companionship, and two souls uniting. Love is wonderful and pure. And, most importantly, love is best when it is televised and judged by millions. Yes, I'm talking about Nick Viall's season of The Bachelor, which is quickly weeding out contestants to narrow down to the final rose. One of the frontrunners this season is Danielle Lombard. She goes by, Danielle L., as there is another Danielle on the show. That's a bit confusing, but, fortunately, social media allows fans to get to know the contestants, beyond what is shown on the series. And, Danielle L.'s Instagram gives Bachelor fans a look at her real life off the show.
The Bachelor has already shown Danielle L. to be a cool woman who seems to handle being on national TV with grace and confidence. Danielle L. is a young businesswoman who has found success in the beauty industry. She makes Nick nervous (in a good way), which is always a clear indication of a frontrunner. Even the Backstreet Boys couldn't deny she had chemistry with the season's leading man. But what else do we know about Danielle L.? Here are some cool things I found out by looking through her Instagram.
1. She Loves To Travel
From Japan to Belgium to Iceland, when given the opportunity to travel, Danielle L. takes it. This could hint that Danielle L. is on The Bachelor for the travel and adventure of it all as much as she is in it for love. The Bachelor has become quite the globe-trotting show and that is something Danielle L. already loves to do.
2. She Talks About Politics
Politics is something Bachelor stars tend to avoid. Not that it doesn't come up, it seems like a key topic to address before you get engaged, but the audience is never really shown any of those conversations. While past contestants have revealed their political leanings post show, it's interesting to find this tidbit while the show is still airing.
3. Female Friendships Are Important To Her
They enjoy doing things like going to concerts, sitting on the grass together, and all dressing well. Danielle L. seems to get along with the women in The Bachelor mansion really well, and that's no surprise after looking at her IG.
4. A Little Pre-Bachelor Fame
She was named #95 in FHM's Most Wanted Women of 2013. FHM is a men's magazine that originated in the U.K. Even before collecting roses, Danielle L. was noticed for her modeling, beauty and success. The proof is in the print.
5. She Loves A Good Selfie
Work it, girl!
6. She Promotes Products
From Monster Energy drinks to specific clothing brands, Danielle L. has made money working as a promotional model. The Bachelor is a great way to expand your social media. Many past contestants make money just from selling products through their Instagram after the show. Danielle L. is one step ahead as she already did this before she ever went on TV. Just think of all the new products she'll be able to sell now!
7. She Loves Good Food
Not only does Danielle L. love good food, she takes very artistic photos of her food. In this Instagram pic, she makes her sushi look like it should be in a museum. Just look at all the colors and fancy designs in this sushi dinner. It's making me hungry.
8. She Has A Puppy
Her puppy's name is Mila. Mia is a yorkie and is very, very adorable. That is all.
9. Her Sister Also Seems Cool
I'm curious if we'll get to meet her sister on a hometown date one day. I hope so! She seems great.
10. She's Close With All Of Her Family
Not only does Danielle have a sister she's close with, she also appreciates her mother and grandmother. In this Instagram she celebrates the three generations of strong women in her family. Nick has also talked about being close with his family, so I'm sure he's looking for someone who is close to theirs.
11. Girl's Got Style
Not only is Danielle a stylish contestant, but thanks to social media she is sharing how we can be just as stylish. She posts pictures that link to where she found the clothing she wears on The Bachelor. If you feel the need to re-do your wardrobe, look no further than this show for where to begin shopping.
12. Bachelor Stars Find Love With Each Other
Danielle L. still spends time with her Bachelor friends. Who knows if she ends up with Nick, but at the very least she found friendship with the other contestants in the mansion. They even go to Disneyland together!
13. The Bachelor Was A Positive Experience Overall
Whether or not Danielle L. ends up with Nick, it seems like the show was a positive experience for her. Danielle has been posting goofy pics from the show and even revealed this behind-the-scenes shot. Even if a contestant doesn't find love on the show, there are still friendships and adventures to be found.
I'm rooting for Danielle L. to find what she's looking for on the Bachelor. Whether that's love or a bazillion more Instagram followers, I wish her the best.