'00s Songs That Should Be On Your Life Soundtrack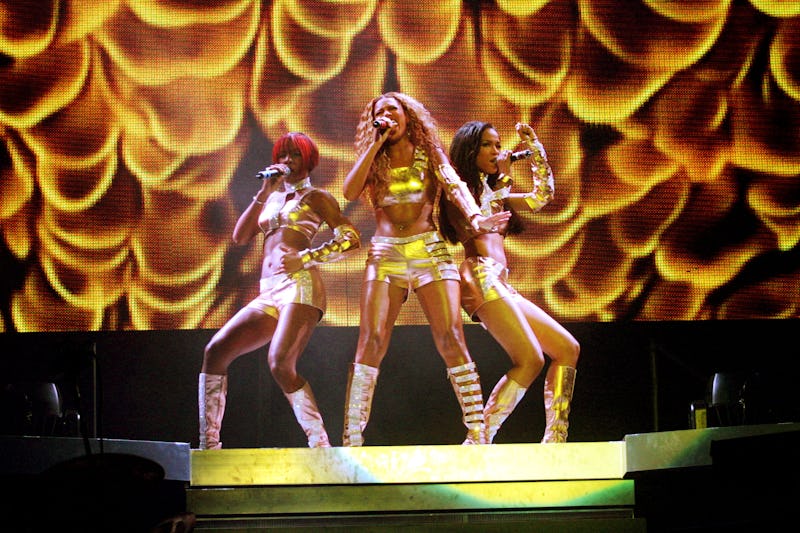 Scott Gries/Getty Images Entertainment/Getty Images
Who knew that pop tunes from 10+ years ago would completely get you now? If you're a millennial like I am, life is crazy. Little did I know, revisiting songs from the 2000s would actually provide major comfort, and further, make me want to thrive that much more. '00s legends like Britney Spears and Christina Aguilera actually had super meaningful messages in their upbeat tunes about womanhood and growing up. Songs by Pink and Justin Timberlake will encourage you to let your individuality shine and bring your own flare wherever you go. And of course, pop stars of the '00s knew how to slay when it came to relationships.
Brandy and Beyonce taught fans how to appropriately set their standards. Katharine McPee was an expert at helping audiences deal with heartbreak. Then there were bands like Scene 23 (from way in the vault) that made people question: Why are we so obsessed with relationships anyway? So many of these songs are relatable because they speak to adjusting to adulthood, even in 2017. Above all, these chosen songs will encourage you to live your life, make mistakes, be confident in your decisions, and feel an array of human emotion. Never did I think the 2000s were this deep.
1. "Can't Hold Us Down" by Christina Aguilera (2002)
Given the chaotic political climate and recent historic Women's March, Xtina's anthem rings true now possibly more than ever. Listening to this contagious and poignant hit will make you ready to take on your day/life.
2. "Umbrella" by Rihanna ft. Jay-Z (2007)
Life as a millennial can be tough. There's a lot of anxiety that comes from aspects of work, love, and life being uncertain. But RiRi's song reminds people that the one certainty comes from people closest to you having your back.
3. "SexyBack" by Justin Timberlake (2006)
JT's hit gives the little confidence boost you need, whether it be hitting on someone at the bar or rocking a pitch you have in a work meeting. Go forth and bring sexy back, your own way.
4. "Independent Women, Pt. I" by Destiny's Child (2000)
Whether dating, in a relationship, or super single, nothing can stop you from being a thriving, independent woman. Paying for your own bills is hard, but that much more rewarding knowing you earned it.
5. "Get the Party Started" by Pink (2000)
Sometimes, you just need a damn break. This song empowers you to let loose and be in the present moment, whether you're life of the party or not.
6. "Single Ladies" by Beyonce (2008)
Even if you're in a relationship, Bey's iconic song just makes you feel proud to be a strong-willed woman. It can serve as an anthem to all, as a reminder that you won't take anything less than you deserve in a relationship.
7. "Live Your Life" by T.I. ft. Rihanna (2008)
The chaos of day-to-day hustle — balancing a budding career, family, relationships, and you time — can be overwhelming. This song makes you want to stop, smell the roses, and just live it up a little.
8. "Bad Romance" by Lady Gaga (2000)
Living your life is also about making questionable choices. Gaga's "Bad Romance" explores wanting someone you know may be wrong for you, but it's just too good to pass up in the moment. If not now, then when?
9. "If U Seek Amy" by Britney Spears (2008)
If you need a big eff-you anthem, this Brit gem is for you. Sometimes it feels like you're misunderstood or the world is out to get you. Breathe a sigh of relief and know you're not the only one. Sometimes you just need a little anger jam which reinforces the fact that you rock.
10. "What About Us" by Brandy (2002)
Life is about trials and tribulations, especially in relationships. Love can be consuming, especially before settling down, but Brandy's song is a reminder to avoid shelving your own desires and put your partner in their place when need be.
11. "Over It" by Katharine McPhee (2007)
Speaking of putting your partner in their place, this song never fails in providing comfort after walking away from a relationship. Whether a recent breakup or reflecting on an old one, "Over It" makes you proud to be your own person and remain confident in decisions you make.
12. "I Really Don't Think So" by Scene 23 (2001)
Birthed from the throwback WB show Popstars, Scene 23's underrated jam makes you question why people put so much emphasis on relationships as a be all and end all. Can't people just live?
13. "Future Love" by Kristinia DeBarge (2009)
For those who haven't found their special someone, this throwback allows you to daydream about the exciting glory of meeting a romantic prospect for the first time.
14. "Such Great Heights" by The Postal Service (2007)
As confusing, challenging, and rewarding as growing up can be, this song will make you believe that in the end, everything will be OK. The struggles will all be worth it and one day when you've succeeded, you'll look back and know it was worth it.