It's National Pickle Day — Here Are 14 Ridiculously Dill-icous Ways To Celebrate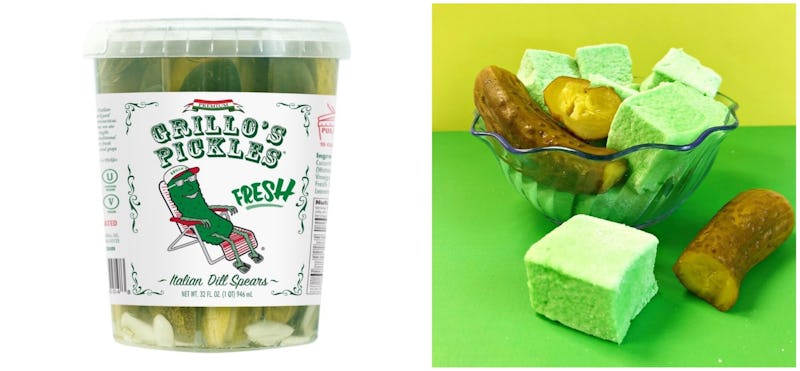 Target; XO Marshmallow
They may not be official observances, but "holidays" centered around food items are always fun — and hey, guess what? Today is National Pickle Day! Observed on Nov. 14 every year, the holiday is the perfect time to bust out you favorite pickle or pickle-adjacent foods. Cupboard barren of dill-flavored goodness? Not a problem. There are tons of pickle items you can buy literally right now — whether you feel like making an actual grocery run or whether you're more of an online shopper.
The origins of National Pickle Day are somewhat obscure. The National Day Calendar notes on their page about the holiday that they haven't been able to identify who created the occasion in the first place. Even so, though, it's a fairly long-standing tradition; it's apparently been celebrated in one form or another since 1949. Pickles themselves go back much further than that, of course — we have historical evidence of their existence dating all the way back to 2030 B.C.E. Given that they're both practical and delicious, it's no surprise that eventually, pickle lovers everywhere would want to take a day to celebrate their favorite food.
And these days, doing so is easier than ever. With pickle having emerged as one of 2018's biggest flavor trends, a virtual cornucopia of pickle and pickle-adjacent products are readily available — many of which can be purchased right from the comfort of your own home. (Thanks, internet.) So, this National Pickle Day, why not pick up one of the following treats to celebrate?