14 Millennial Pink IKEA Products No Millennial Will Be Able To Resist Buying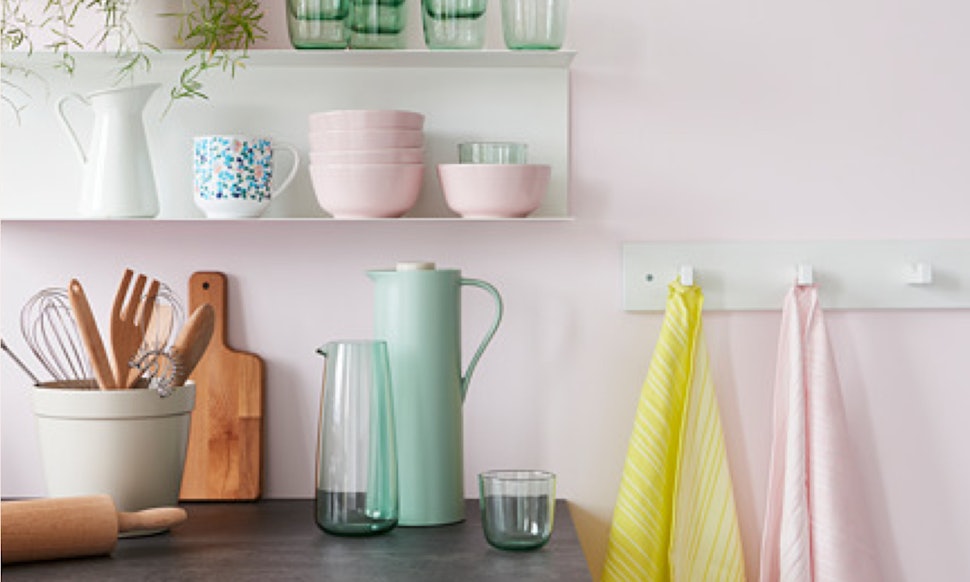 Ikea
As I write this, I'm sitting on a millennial pink claw-foot chair on loan to me from my grandmother, drinking coffee out of a millennial pink mug, with a palo santo stick burning on a millennial pink ceramic dish on my side table. Suffice to say I'm a sucker for millennial pink products, such that nearly two years in to living in my first grown-ass adult apartment, the amount of millennial pink items outnumbers items of literally any other color. (Go ahead, count.) Much of this is thanks to IKEA, the Swedish homegoods store that has singlehandedly transformed what millennial living looks like, thanks to its trendy, low-cost furnishings. Luckily, for those of you who haven't (yet) committed as wholeheartedly to millennial pink everything, there are tons of millennial pink products you can buy at IKEA on the cheap that will seriously up your apartment game.
Haters will try to say that millennial pink is on its way out, in favor of Gen Z yellow or Barbara Kruger red. Sure, we could stand to switch up our ~aesthetic~ from time to time, but true millennials will always come back to our preferred pink — especially since both the above colors actually go well with the defining pink of the 21st century. The point is, when you're outfitting an apartment (or just looking to zhuzh up a room), you have tons of extremely on-trend options. Here are 14 millennial pink IKEA products you probably won't be able to resist buying.
1

These Gorgeous Vases
Ikea
Throw a single palm frond in one of these babies, you got some prime freakebana action for literally less than $10.
Buy Now
2

These Mod Glasses
Ikea
True life: on top of the aforementioned millennial pink objects in my living room, I'm the proud owner of a set of 13 extremely fragile millennial pink martini glasses, also from an elder matriarch, that I'm absolutely terrified to use. At a cool $1.99 a pop, I'd be much more chill about serving drinks in these.
Buy Now
3

This Cozy Bedding
4

This Chic Dinner Set
Ikea
Matching plates and dishes is already a dream of mine, but make it millennial pink and I'm sold.
Buy Now
5

This Useful Cushion Cover
Ikea
Transform your gross couch cushions that you somehow inherited from your senior year dorm.
Buy Now
6

This Versatile Table
Ikea
Though this is more in the pale orchid family, this versatile tray table with a swiveling top could double as a bar cart, or an end table, or a bedside table, or heck, just put it in my house already.
Buy Now
7

This Dreamy Chaise
Ikea
Le Corbusier + Glossier = I can't wait to nap on this.
Buy Now
8

This Simple Placemat
Ikea
This washable placemat will make your dining situation a smidge more elegant, and save you some extra cleanup to boot.
Buy Now
9

This Sophisticated Planter Set
Ikea
This planter and tray set is beyond Instagrammable, but the tray on its own could be a handy place to collect jewelry or makeup on your dresser.
Buy Now
10

This Funky Carafe
Ikea
Can't you just imagine serving freshly squeezed OJ out of this baby? Or dropping a few fresh cut flowers from the farmer's market in there?
Buy Now
11

This Minimalist Plant Pot
Ikea
Another plant pot in a slightly hotter shade of pink, for when you need to transplant your flourishing succulents somewhere with a lil bit more room.
Buy Now
12

These Coordinating Dish Towels
Ikea
Remember when I said that thing about millennial pink getting eclipsed by Gen Z yellow? These complementary dish towels prove that the two colorways can live in harmony (in your kitchen).
Buy Now
13

Another Arty Plant Pot
Ikea
The plant pot options are neverending and I couldn't be happier.
Buy Now
14

This Extremely Midcentury Lamp
Millennial pink is clearly here to stay, so if you want to build a décor scheme around it, who am I to stop you? From kitchenware, to linens, to a truly astonishing array of planters, you got plenty of pastel options.