14 Surprising Celebrity Friendships You Probably Totally Forgot About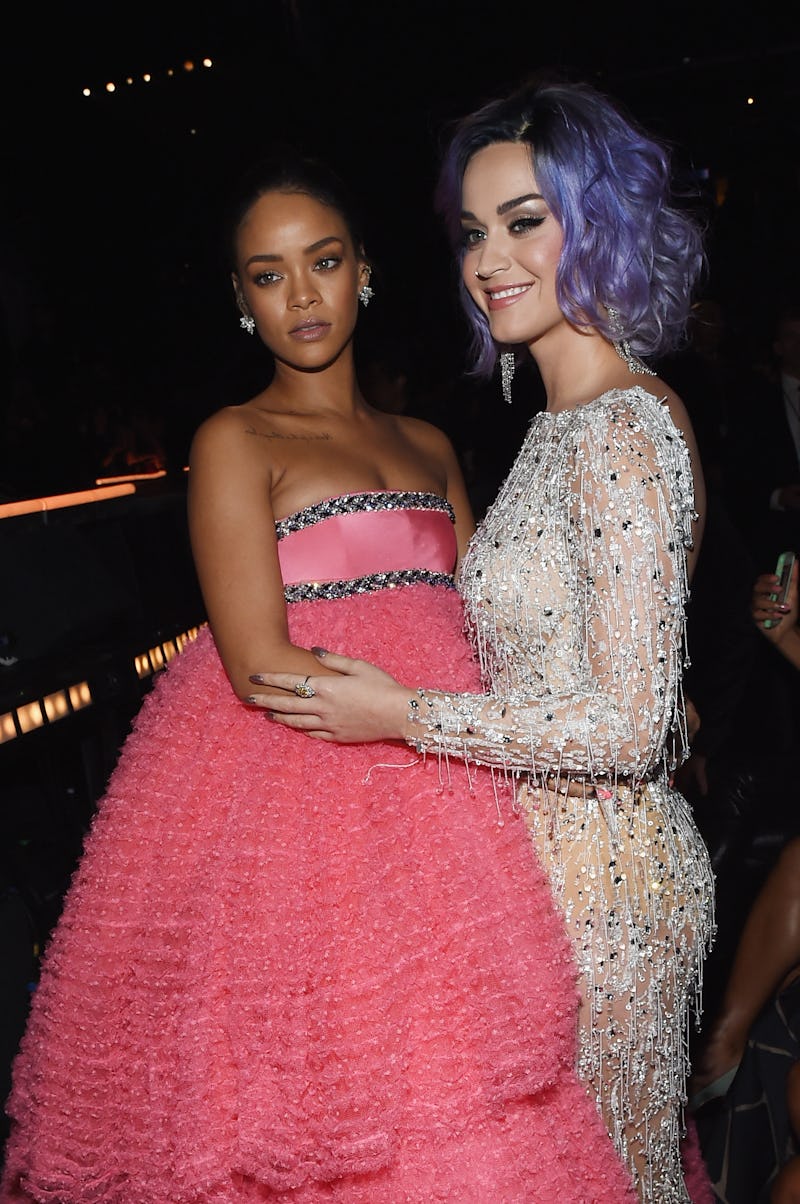 Larry Busacca/Getty Images Entertainment/Getty Images
You know how it goes: Sometimes you're super close with someone, but then the friendship fizzles over the years. Or perhaps you had a big argument that led to a friend breakup — it happens. And when it comes to Hollywood, there are some surprising celebrity friendships you totally forgot about, since their bonds seemed to have faded from the spotlight. For celebs, sometimes it can be especially hard to maintain a friendship, especially with all the public scrutiny and the paparazzi following their brunches and movie nights.
There are certain celebrity friendships that we all know about. Like, who isn't familiar with members of Taylor Swift's crew? Or hasn't felt a little jealous of the friendship between Amy Schumer and Jennifer Lawrence? Seriously, could you imagine sitting between Schumer and Lawrence while watching Wonder Woman on the big screen? Talk about squad goals. But let's not get too distracted by fantasizing about awesome, star-studded friendships.
As the years have passed there are a number of celebrity friendships that you've likely forgotten about. Either because you weren't paying attention closely at the time, or the friendship in question was blink-and-you-miss-it, and you totally missed it. So let's take a moment to reminisce about a dozen or so celebs who surprisingly used to be friends.
1. Jennifer Lopez & Victoria Beckham
In case you don't remember, Lopez and Beckham were front-row royalty at fashion shows and award shows back in the 2000s, but apparently they aren't as close as they once were. Back in 2012, Lopez revealed she and Beckham no longer see each other regularly, and that they began to drift apart after Beckham's daughter Harper was born, according to Marie Claire.
2. Cameron Diaz & Snoop Dogg
Apparently Diaz and Snoop went to high school together, and Diaz even claimed she's "pretty sure" she bought marijuana from Snoop, according to a 2011 report from Us Weekly. So perhaps not the best of friends, but kinda surprising that they knew each other way back when.
3. Vince Vaughn & Robert Pattinson
Eamonn M. McCormack/Getty Images Entertainment/Getty Images
Jason Merritt/Getty Images Entertainment/Getty Images
Vaughn and Pattinson are reportedly close, like real close. So much so that sources claimed Pattinson even went to Vaughn for advice when his relationship with Kristen Stewart was ending.
4. Rihanna & Jim Parsons
After working together on the animated film Home, Rihanna and Parsons became — and stayed — friends. Parsons even spoke about their friendship during an appearance on The Talk in 2015.
5. Rihanna & Katy Perry
Although they haven't been spotted together in a while, Rihanna and Perry were besties for a while there. The two first became friends in 2009 when Rihanna sent Perry a Valentino bag for Valentine's Day.
6. Miranda Kerr & Miley Cyrus
These two met "during a night out" in Los Angeles back in 2013, according to E! News. Kerr and Cyrus seemed to hit it off, sharing a selfie to social media, but they haven't really been seen together much over the past few years.
7. 50 Cent & Bette Midler
It may be a bit of a stretch to call Midler and 50 Cent "friends," but they definitely seemed friendly when they teamed up to open a community garden in Queens, New York in 2008.
8. Gwyneth Paltrow & Winona Ryder
Rich Fury/Getty Images Entertainment/Getty Images
Dimitrios Kambouris/Getty Images Entertainment/Getty Images
It seems like forever ago, but back in '90s when Paltrow was dating Ben Affleck and Ryder was dating Matt Damon, the two ladies quickly became friends. It was short-lived, however, as the friendship resolution was rumored to have something to do with Paltrow's award-winning performance in Shakespeare in Love.
9. Gwyneth Paltrow & Madonna
Jamie McCarthy/Getty Images Entertainment/Getty Images
Rich Fury/Getty Images Entertainment/Getty Images
After once referring to Madonna as being "like an older sister," according to the Daily Mail, Paltrow is apparently no longer as close to Madonna. They reportedly drifted after Madonna's split from Guy Richie, and Paltrow even hinted at being angry at Madonna during an interview with Vogue in 2010.
10. Courtney Love & Carrie Fisher
Love and Fisher were such good friends that they event spent the winter holidays together in 2015. Sadly, Fisher is no longer with us, and at after Fishers passing Love shared a heartfelt message to Instagram. "One of the brightest lights has gone out," she wrote. "Deep condolences to Billie and Debbie. Scuse me while I break all my china now."
11. Mariah Carey & Will Ferrell
They looked cozy posing for a photo backstage at Carey's show in Vegas, but the friendship likely didn't last long for Ferrell and the iconic singer. They're probably not as friendly after all the drama that apparently went down when Carey shot her cameo for Ferrell's movie The House.
12. Harry Styles & Zach Braff
Dia Dipasupil/Getty Images Entertainment/Getty Images
Steven Ferdman/Getty Images Entertainment/Getty Images
Check out Braff's somewhat NSFW explanation of his brief "bromance" with Styles here.
13. Kevin Smith & Ben Affleck
These two were actually pretty public friends, who collaborated on a number of film projects. But according to Refinery29, they had a falling out after Affleck supposedly had no time for Smith once he had children.
14. Courteney Cox & Ed Sheeran
A somewhat unlikely duo, but it's impossible not to bond with someone when you're sipping on some red wine. All joking aside, apparently Sheeran lived in Cox's beach house back in 2013 for a few months, and Sheeran even introduced Cox to her fiancé, Johnny McDaid, according to ABC News.
Although these celebs all used to be friends, there's always hope for the future. You know how it goes, sometimes people loose contact for a while and rekindle their friendships after a little time passes. Perhaps the same will be the case for some of the people on this list.