Things You Didn't Know About The Guy Who Played Arnold On 'Hey Arnold'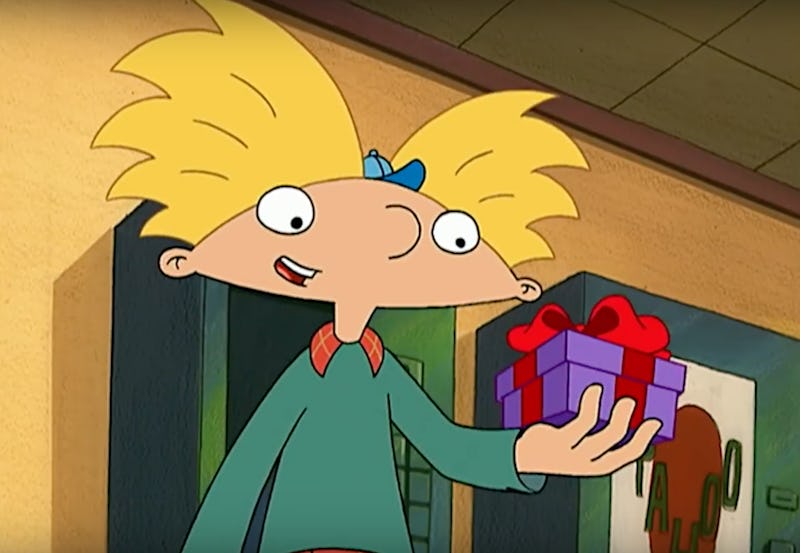 NickSplat/YouTube
As any person with their priorities in check knows, the guy who played Arnold on Hey Arnold! (the first two seasons, anyway) got way hot. Granted, this is not breaking news: Back in 2015, present-day photos of actor Lane Toran knocked the tiny baseball cap right off the internet's skull, and we were forever changed. As far as iconic Hey Arnold! moments go, it's probably right up there with Stoop Kid finally leaving his stoop and the upcoming Hey Arnold! flick.
In just a few short months, a two-part special titled Hey Arnold!: The Jungle Movie is slated to premiere on Nickelodeon. As the network revealed at last year's Comic-Con, many of the treasured series' original actors will return to the Hey Arnold! universe, including — you guessed it — Toran. However, he will not be Arnold. According to IMDb, Toran will apparently reprise the role of Wolfgang. Yes, the same guy who played the titular character for two seasons also lent his voice to the well-coiffed bully of P.S. 118.
Given that he will be in the made-for-TV Hey Arnold! movie, it seems like a solid time to learn (or, if you happen to be a Toran historian, revisit) a few fun facts about the actor. You know, in addition to "he was Arnold," "he was Wolfgang," and "he's a smokeshow."
1. He Also Played A Go-Kart Driver On Hey Arnold!
In the episode "Grand Prix," Toran voiced a race car driver named Jacques. (Not to be confused with Jacques the Chez Paris waiter.)
2. He Was King Bob On Recess
Between Wolfgang and King Bob, it looks like Toran was the go-to voice for elementary school mean guys.
3. Hey Arnold! Was His First Voice Over Audition
"Hey Arnold was actually my first audition for voice over," Toran told ABC News in 2015. "It came out at a time when I was watching cartoons myself, and I was just as excited myself to watch."
4. He Appeared On Nashville
Toran played the role of "Bobby" on the third episode of Season 4. Which I'm sure you're going to run to go and watch now.
5. He Was In An E*TRADE Ad
Excuse me, he and his glorious beard were in an E*TRADE ad. The beard, you guys!
6. And He Was In A Smirnoff TV Spot
7. He Composed Music For The Original My Super Sweet 16
After doing the acting thing for a while, Toran became a musician. And one of his credits: Iconic MTV reality show My Super Sweet 16.
8. He Voiced Tripod On 101 Dalmatians: The Series
You know who I could totally see wearing Tripod's headband? Wolfgang.
9. He Is A Cat Person
Aw.
10. His Mother Is A Cancer Survivor
And, from all appearances, she and Toran are very close.
11. He Knows A Thing Or Two About Renovating Houses
Hey, HGTV? Give this guy a show already.
12. Like Arnold, He Appreciates A Good Flannel
Glad to hear it.
13. He's Off The Market
Sorry, ladies, but he seems to be very happy with actress, dancer, and producer Jaclyn Betham, and, honestly, their pictures together are adorable.
14. And, Unlike Arnold, Head Is Not Shaped Like A Football
I know, I know. This fact is earth shattering. I'm sorry if I just turned your world upside-down.
You can hear Toran's voice in the to-be-released Hey Arnold!: The Jungle Movie on Nickelodeon.