15 Little Acts That Strengthen Your Bond With People At Work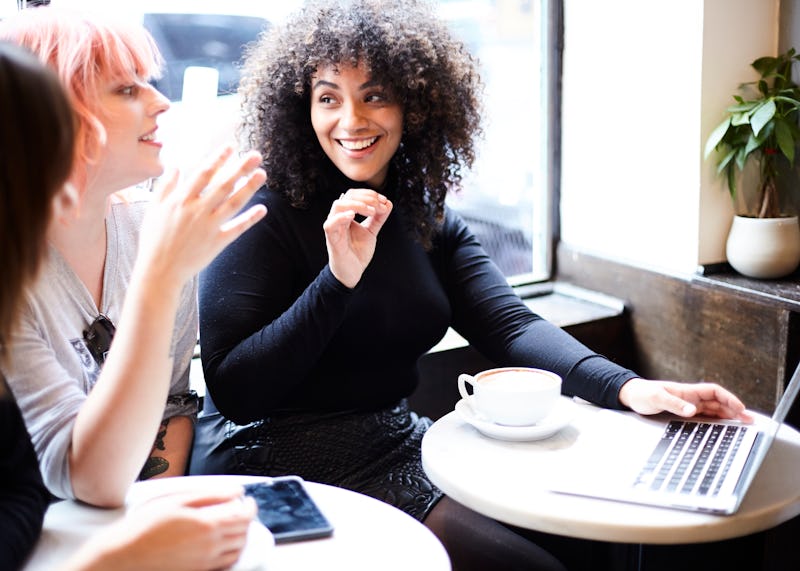 Hannah Burton/Bustle
OK, so you don't have to be BFFs with everyone you work with, if you'd prefer not to. Sometimes, work is about getting in, getting out, and getting that paycheck — and that's totally understandable. But there are benefits to becoming friends with your coworkers, and being someone people can get along with.
First off, bonding with your colleagues can help you get ahead in your career, since experts say it's typically those who are well-liked at work who are top of mind when it comes time for promotions. But it's also about creating a good environment, since work is where you spend most of your time.
"We [often] spend more time with the people at work than we do with our own family and friends," career performance coach Jacqueline Dolly tells Bustle. "When we neglect to strengthen our bonds with our coworkers, we leave ourselves vulnerable and isolated." And doing what you can to prevent feeling isolated, lonely, or bored at work? Totally worth it.
But it's also important to bond in the name of cultivating a healthier, more functional office environment. "When we get to know our coworkers and strengthen our bonds with them, it becomes a little easier to meet challenges as a team and solve people-related issues that form the majority of the challenges we experience at work," Dolly says. Here are a few ways experts say you can get your bond on with your coworkers, and have an all-around better day.