15 Movies On Netflix That'll Keep You Enthralled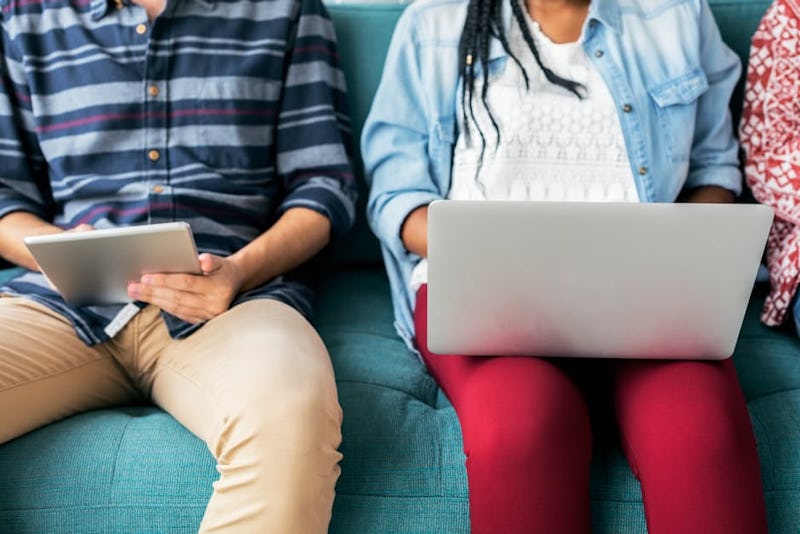 Whether you're craving a horror movie you can't really look at (but can barely look away from), or a drama that has you staring wide-eyed from start to finish, then you're in luck. As it turns out, there are all sorts of enthralling movies on Netflix right now.
The streaming site pretty much always hits the mark, but it's safe to say it has contained quite a few duds over the years. You know the ones I'm talking about. These are the movies you get about 10 minutes into, only to realize they're a terrible waste of time. Perhaps they're boring, too slow, or not at all scary. (I'm looking at you, list of one-star "horror" movies.)
I won't name any names, but I've landed on totally lame movies more than once. And when all you want to do is settle in with some popcorn and truly invest yourself in a movie, nothing's more annoying than having to give up and start over with a new one that is, hopefully, a lot more interesting.
Whether you're in the mood for a crime drama, thriller, horror flick, or interesting documentary, I've gone through and chosen a few that will keep your interest. In no particular order or genre, here are the most captivating and fascinating movies currently on Netflix.
1. It Follows
As someone who loves the genre, I have to say — this is one of my fave horror movies ever. From the incredible Stranger Things-esque soundtrack to the characters' enviable hipster wardrobes to the super intense plot, I promise It Follows will have you watching 'til the very end.
2. Spotlight
This biographical crime drama follows the Boston Globe's Spotlight team as they investigate child abuse in the Boston area. It's chilling, but with amazing performances by Rachel McAdams and Mark Ruffalo, is still very watchable.
3. Colonia
OK, this one's for all my Emma Watson fans out there. (That's everyone, right?) Colonia is all about Lena, a girl who joins a cult in 1970s Chile in order to rescue her boyfriend. The story is great, but the fact it's based on true events makes it all the more enthralling.
4. Hush
Netflix has some pretty great horror movies, but I gotta say Hush is one of the creepiest. Picture it: A deaf woman is home alone in a cabin, doin' her thing, while a spooky masked man breaks in. It's truly an edge-of-your-seat flick.
5. A Girl Walks Home Alone At Night
This Persian-language horror film features a female vampire, which is pretty darn unique as far as vampire movies go. The film follows the young girl and her Iranian family as they deal with all sorts of scary situations.
6. No Country For Old Men
If you've yet to see No Country For Old Men, watch it ASAP. The movie has been considered one of the best ever since it came out in 2007, and it has probably one of the spookiest main characters ever. Gripping indeed.
7. A Single Man
A Single Man is a drama following a day in the life of George Falconer, a gay university professor who has lost his partner in a car crash. Colin Firth was nominated for an Academy Award for the role, so I suggest checking it out.
8. At The Devil's Door
This film follows a teenage girl as she experiences all sorts of spooky events. If you loved Naya Rivera on Glee, then you might be interested in seeing her spread her acting talent into the horror genre.
9. Bronson
This movie about a horrifying British criminal puts Tom Hardy's incredible acting skills on full display. It's kind of funny, very scary, and definitely worth watching.
10. Force Majeure
What would you do if an avalanche was coming your way? The father in this Swedish drama peaces out, leaving his family behind to fend for themselves. Yikes.
11. The Last Man On The Moon
If you're in the mood for an enthralling documentary, check out The Last Man On The Moon. It tells the story of Apollo astronaut Gene Cernan, his experience stepping on the moon back in 1972, and what his life has been like since.
12. Pulp Fiction
Pulp Fiction is another one of the greatest movies ever, and is totally worth a re-watch if you've already seen it.
14. Memento
Memento is one of those movies you can watch over and over again, and it never gets old. It's a psychological thriller about a man who loses his memory and has to piece it back together in order to solve a crime. So good.
15. I Don't Feel At Home In This World Anymore
This Netflix original is an interesting combo of comedy and thriller. With performances by Elijah Wood and Melanie Lynskey, it'll definitely keep you interested for the entire 96 minutes.
Here's hoping one (or all) of these movies will pique your interest and keep you watching all the way through.
Image: Pexels