16 Songs A Britney Jukebox Musical Should Include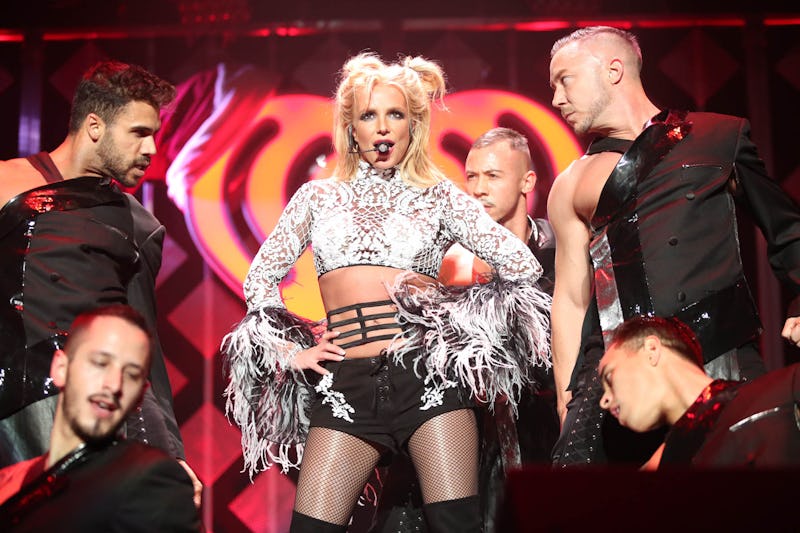 Christopher Polk/Getty Images Entertainment/Getty Images
Larry Rudolph is at it again. As the Piece of Me residency prepares to bid the Las Vegas Strip adieu once and for all, Britney Spears' manager has already planted seeds for the pop star's next venture. As Forbes reported on Monday, Rudolph recently met with Jerry Mitchell (Kinky Boots, On Your Feet!, Legally Blonde: The Musical) to discuss bringing the "I Wanna Go" icon's tracks to the Great White Way. Yes, there could one day be a Britney Jean Spears Broadway musical.
Keyword: Could. According to Forbes, Rudolph and Mitchell are still "mulling over the idea" and have yet to establish a timeline. So uh, remain chill, my fellow Britney fans. I know this is exciting and all, but wait before you ring the alarm.
Now, if this does happen, don't expect a musical adaptation of Lifetime's Britney Ever After or Britney and Kevin: Chaotic; it would not be a biographical stage show. Rather, it would be a jukebox musical, à la Mamma Mia!, Viva Forever!, and Saturday Night Fever. An original story set to Broadway-ified renditions of my favorite pop star's music? I would scoop up that original cast recording faster than you could say "That kitten got your tongue tied in knots, I see."
Though I haven't the slightest idea as to what this musical would be about (it's still in the early planning stages, remember?), that didn't deter me from picking the singles and deep cuts that I'd love to hear belted out by trained musical theater performers. Given how many show-stopping jams Spears has to her name, this wasn't the easiest of missions, but rather than let myself get overwhelmed by the process, I took a page out of Spears' book: I emailed my heart.
1. "…Baby One More Time"
This is the Britney song to end all Britney songs. It is a no-brainer. Of course it'd be part of the show.
2. "Oops!… I Did It Again"
Ditto for this tune.
3. "Everytime"
The devastating pop ballad would bring the house down.
4. "Work B*tch"
The masterpiece that gave us "I make the bubble up, call me the bubble-ah" deserves to tread the boards.
5. "Shattered Glass"
With lyrics like "Did I wake you?/Were you sleeping?/Were you still in bed? Or is a nightmare keeping you up instead?" and "My face is gonna haunt you all the time," this song would bring a wonderfully spooky element to the show. It could be part of a dream sequence. A spooky dream sequence. You better believe there'd be at least two fog machines. At least.
6. "I'm A Slave 4 U"
Can you imagine an entire chorus line panting in unison before nailing some piping hot choreo? Because I can. And the thought gives me goosebumps.
7. "Toy Soldier"
This has "elaborate choreography/stage setup/over-the-top FAO Schwarz toy soldier costumes " written all over it.
8. "Circus"
Same goes for this one. But uh, replace the FAO Schwarz toy soldier costumes with circus performer costumes. Obviously.
9. "Till The World Ends"
I can see it now: After one character has an especially bad day, she puts on her old pointe shoes. It's been years, but she needs to dance it out. As she warms up at the barre, she sings a pared-down version of "Till The World Ends." And then, the song speeds up. Her friends join her at the barre and it turns into a techno ballet.
10. "Private Show"
This vampy song would totally work as a Bob Fosse-esque number.
11. "Unusual You"
As far as Spears' non-singles go, this is one of my favorites. I couldn't not include it on my wish list.
12. "Perfume"
This power ballad is all things gut-wrenching and gorgeous and perfect. What more could you want out of a musical number?
13. "Toxic"
Duh.
14. "Lucky"
Frankly, there could be an entire musical about Lucky. Poor, poor Lucky.
15. "Stronger"
If the protagonist happens to have an "I thought I was strong yesterday, but I think I'm even stronger today" epiphany, what in the world could she possibly sing? Oh, if only there was a Brit Brit song that truly captured this feeling.
16. "Email My Heart"
This could be a duet. A Tony-worthy duet. Don't @ me.