16 Creative Easter Instagram Captions That Will Make Your Post All The More Egg-celent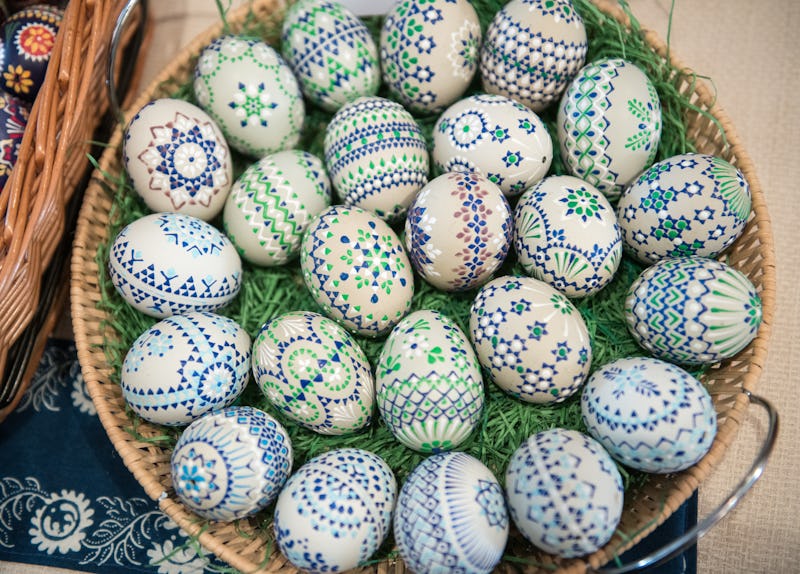 Steffi Loos/Getty Images News/Getty Images
While Easter has origins in religion, the holiday is an open celebration for people of all backgrounds, and it's not uncommon for even those who aren't religious to partake in the celebrations by spending time with family, participating in Easter egg hunts, and devouring giant chocolate bunnies between meals of egg-shaped candy. A holiday like Easter is special, celebrated with joy by kids and adults alike. Seriously, are you ever too old to paint Easter eggs and eat chocolate bunnies? Absolutely not. Considering it's a holiday with such massive popularity, it's likely you're going to want to think up some creative Easter Instagram caption ideas to post on Apr. 1.
That's right: In 2018, Easter gets a bit of a fun twist by falling on Apr. 1, better known as April Fools' Day. This sort of coincidence has actually become a pattern in 2018, if you think about it: in February, Ash Wednesday fell on the same day as Valentine's Day. While Easter's match up with April Fools' Day may not seem like a big deal, it's definitely a coincidence you should take advantage of. This is the first time since 1956 that Easter and April Fools' Day have coincided — that's a long time! While that's quite some time ago, the next instance is coming in only 11 years, in 2029. However, while 11 years is shorter than the previous 62, it's still a long time to wait to pull the perfect Easter/April Fools' Day prank.
There's no reason you can't celebrate Easter properly while also pulling pranks. Today, one of the steps to celebrate any holiday properly is to post about it on social media. Seriously, did you even do Easter if you don't post a picture on Instagram of you next to some freshly painted eggs?
Wondering how to get inventive with your Easter post this year? Read on for creative captions to use on Instagram this Easter Sunday.
1. Somebunny loves you.
2. Happy Easter to all my peeps!
3. "A rebirth out of spiritual adversity causes us to become new creatures." - James E. Faust
4. Hope you have an eggs-tra special Easter!
5. Chocolate is the answer, who cares what the question is?
6. I love Easter! When else can you bite someone's head off and have it be chocolate?
7. "Easter is the only time when it's perfectly safe to put all of your eggs in one basket." - Evan Esar
8. I'm so egg-cited, and I just can't hide it!
9. "Easter is an arts and crafts moment where your whole family and friends can get involved." - Alex Gaurnaschelli
10. A balanced diet is chocolate in both hands.
11. Why did the Easter egg hide? He was a little chicken.
12. There is nothing better than a friend... unless it's a friend with chocolate.
13. Happy Easter to everybunny!
14. "Do not abandon yourselves to despair. We are the Easter people and hallelujah is our song." - Pope John Paul II
15. You're so bunny!
Whether you plan to spend Easter pranking your family (by keeping the spirit of April Fools' Day alive between Easter egg hunts, of course), showing your love for the people in your life, eating lots of candy or even all of the above, share your day with your followers on Instagram with one of these witty captions. Like I said, Easter is a day for everyone to have fun, if they want to participate. Get creative and share the best — or most hilarious — parts of your holiday with your fam, on and offline.