The Best Feminist Jokes Of 'Kimmy Schmidt' Season 3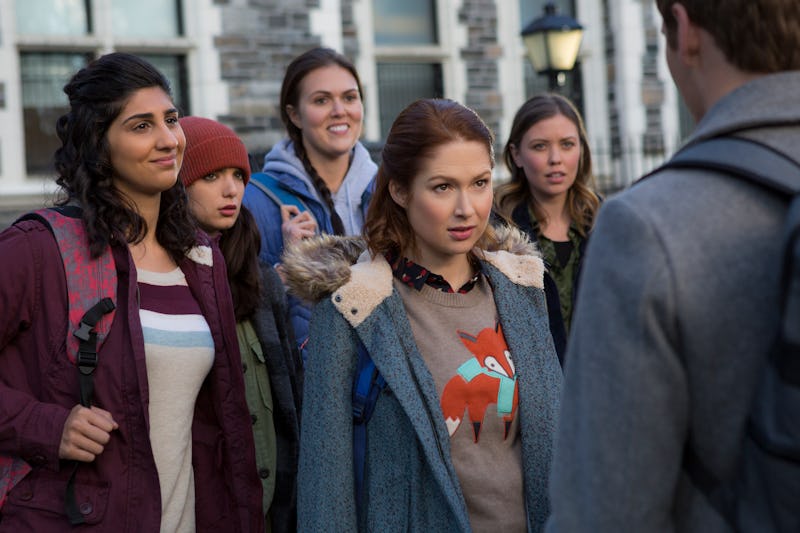 Eric Liebowitz/Netflix
Even though Kimmy Schmidt was held prisoner in a bunker for many of her formative years, she knows that women should be equal to men. So it makes sense that Unbreakable Kimmy Schmidt would include some wise — and hilarious — words of wisdom when it comes to the pursuit of gender equality. The feminist jokes in Unbreakable Kimmy Schmidt Season 3 echo the theme song's message of "Females are strong as hell," but also are pretty scathing when it comes to how feminism has evolved over the years. The Netflix comedy series from Tina Fey is no stranger to controversy and while some feminist viewers may be insulted by Unbreakable Kimmy Schmidt's portrayal of feminism in Season 3, these jokes aren't anti-feminist. Instead, they are designed to make you laugh at this important issue and maybe make you think a bit too.
Beyond making some Hillary Clinton jokes, the fifth and sixth episodes of Season 3 — "Kimmy Steps on a Crack!" and "Kimmy Is a Feminist!," respectively — are the most focused on making observations on feminism and how women are treated in society. After telling Gretchen in Season 2 that she doesn't need a man to lead her, Kimmy's bunker buddy (OK, "buddy" is a strong word) takes it to the extreme as she attempts to become a female cult leader in "Kimmy Steps on a Crack!" Turns out, even cult leaders can face discrimination because of their gender. And in "Kimmy Is a Feminist!" Kimmy discovers that although college-aged women may use terms like "gender-normative" and quote Simone de Beauvoir, it doesn't mean they still don't fall prey to the gender roles that patriarchal society has established for them. After all, as Unbreakable Kimmy Schmidt so knowingly mocks, is it really a woman's idea to be grinded upon while dancing?
While these feminist jokes not be everyone's cup of tea, at her core, Kimmy Schmidt is herself a feminist. And hopefully you can laugh at these feminist jokes from Unbreakable Kimmy Schmidt Season 3 as she learns more about what feminism means to her.