17 Genuinely Funny Moments On 'Game Of Thrones' Because Yes, They Do Exist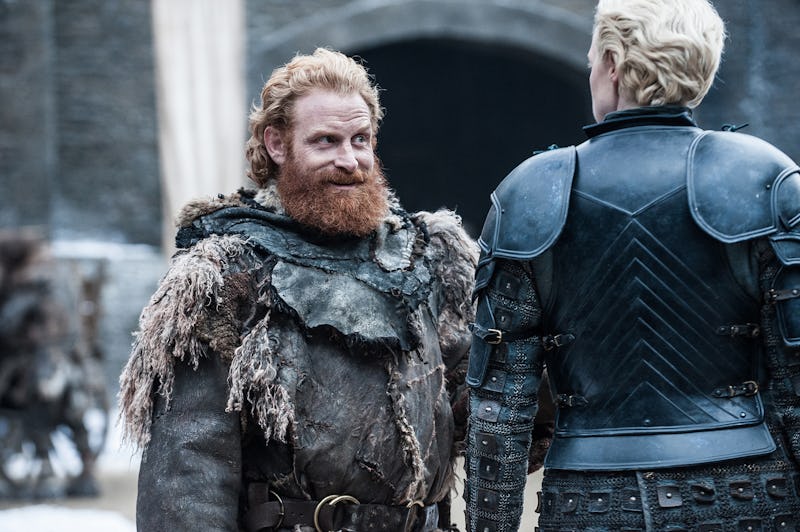 Helen Sloan/HBO
The Red Wedding. Ned Stark's beheading. The Battle of the Bastards. Thanks to these brutal moments, no one would mistake Game Of Thrones for a comedy, that's for sure. But that doesn't mean it's always so serious. In fact, take a closer look at the past seven seasons of the HBO series and it's clear Game Of Thrones has some genuinely funny moments that will leave you laughing. At least for a little while, you know, before they're killing off another one of your favorite characters.
Now, to be honest, one has to dig a little deep to find the funnier moments the Seven Kingdoms has to offer, but after they are unearthed it's hard to deny just how entertaining they can be. Whether it's Lady Olenna's entrance, Tormund's awful attempts at flirting, or Tyrion's Seinfeld-ian take on musical chairs, these rare chuckles are the perfect palate cleanser for all the fire and fury that happens on the show.
This upcoming final season, which is slated to premiere next year, will likely be as funny as the previous seasons, which is to say, not very funny at all. HBO has already teased that basically everyone you love on Game Of Thrones is going to die. So for now, let GoT help you LOL before it gets too hard to do anything but cry.