A Robot Predicted Which 'GoT' Characters Die In Season 8 & It'll Make You Bend The Knee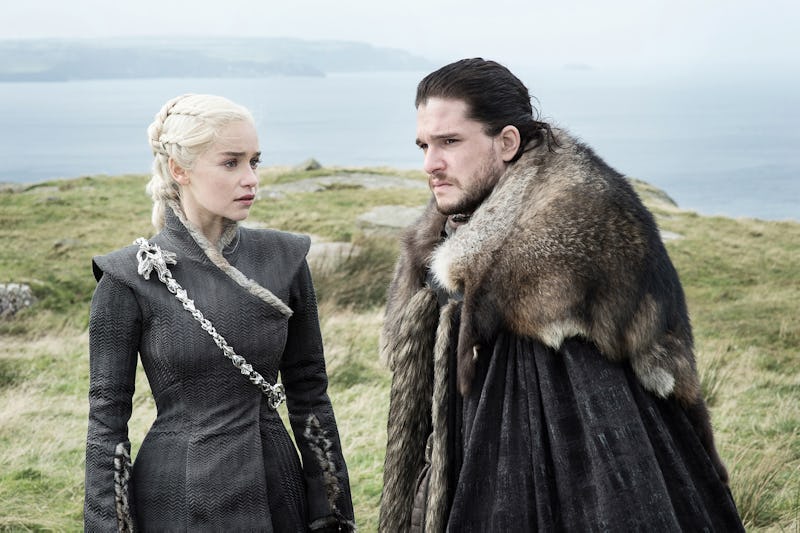 Helen Sloan/HBO
Chalk it up to human error. Now there's a robot predicting who will die on Game Of Thrones in Season 8. Entertainment Weekly reported that a data scientist created an algorithm that is bound to influence your theories for GOT's final season. That's because DataRobot has pored over information that has led it to predict who is most likely to die on Game Of Thrones, and the results will have you bending the knee in utter sadness.
EW reported that data scientist Taylor Larkin looked at the fan-created Wikis for 2,000 characters in A Song Of Ice and Fire, both living and dead, to analyze their traits. What he found was that gender, age, house, nobility, and whether or not the character's family is still alive could help decide whether or not a character would live. For instance, female characters reportedly die less frequently than the male characters and the Targaryens don't have a good track record. In the end, the robot came up with an answer for who is most likely to die in Game Of Thrones final season: Daenerys Targaryen.
Perhaps, it's not that surprising to fans who have been paying attentions to the human theories, which have also predicted Dany will die in Season 8. Not to mention the many, many signs that the Khaleesi isn't long for this world. The DataRobot said there was an 83.77 percent chance she will die, which is definitely not good for her.
Out of the other remaining Game Of Thrones characters, the DataRobot predicted that Jaime Lannister was the second most likely to die with 72.91 percent. Not all that surprisingly, his siblings, Tyrion (No. 3 with 70.76 percent) and Cersei (No. 5 with 60.39 percent) also made the list. But, it's the Starks that really should be worried, with Sansa, Arya, and Bran, who is the fourth most likely character to die, all predicted to say goodbye to this cruel world in the final six episodes.
You know that honorary Stark, Jon Snow is also on the list, but lower than you might expect. He came in at sixth with a 58.99 percent chance of dying. Though, to be fair he's already died before so the robot might assume that he's less likely to die now. Rounding out the list, Euron Greyjoy and Gendry are also expected to croak sometime in Season 8.
Let's be honest, there's a good chance every one of these characters will die in Season 8. Especially since HBO has already revealed that basically, everyone is going to die inGame of Thrones' final season. Back in March, Francesca Orsi, HBO's SVP of drama, said that at an all-cast table read of the upcoming season, "one by one, they started falling down to their deaths," and led to some serious tears from the actors.
It was also revealed that there will be a battle scene in Season 8 that took 55 days to shoot. That should definitely make fans worried since that sounds very final and likely very bloody. And while no one really knows what to expect from the upcoming season when it finally airs in 2019, Dany herself, Emilia Clarke did tease that the GOT finale is going to be divisive. In an interview with The Herald Sun, Clarke said, "People will scream and people will say, 'That's exactly what I wanted. And some people will go, 'Huh?' – my mum, probably."
Now, knowing that Clarke's mom might be confused could be a clue that her daughter's not making it out of this one alive. Or, maybe it's a sign that Daenerys is actually Azor Ahai and she only kind of dies. Just something to think about for the next year or so.