20 Infuriated Scientists Blast The Climate Deal Exit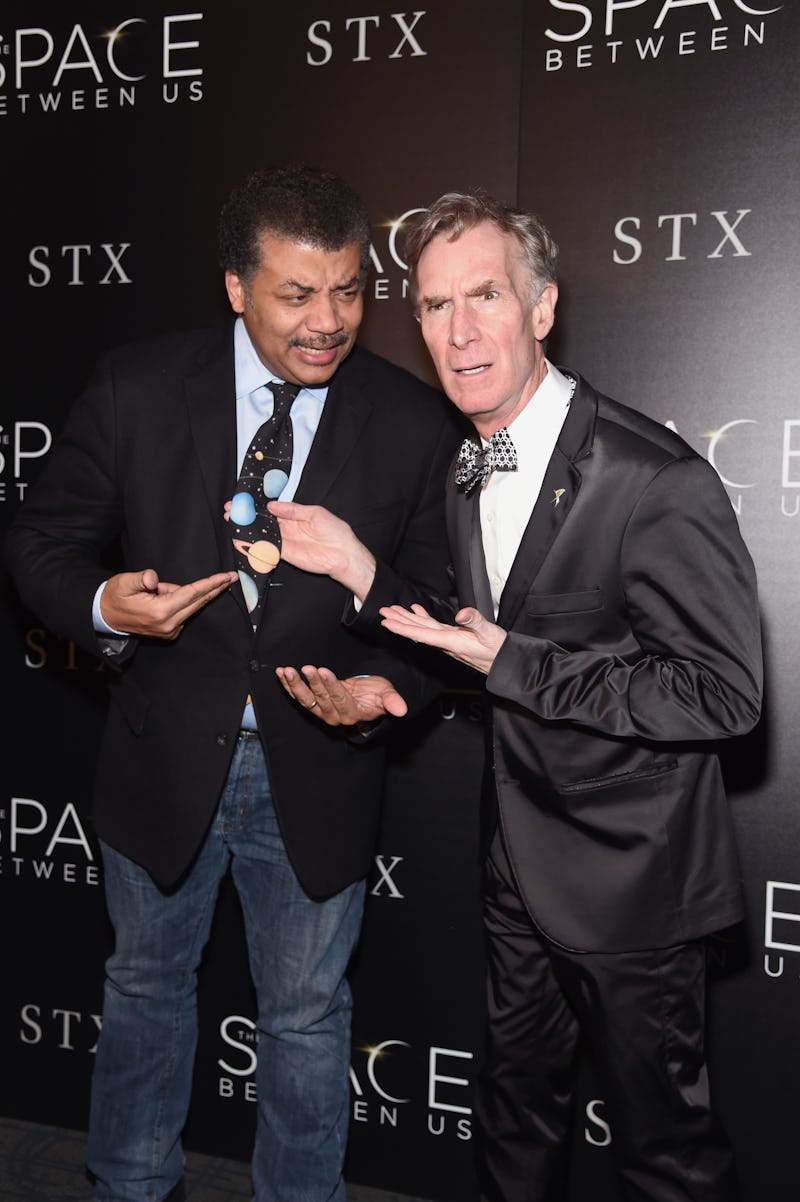 Jamie McCarthy/Getty Images Entertainment/Getty Images
While the world waited with bated breath, Trump officially announced on Thursday that the United States will withdraw from the 2015 Paris agreement. Scientists protested the Paris climate deal withdrawal loudly when Trump first announced his intentions to leave as a campaign promise, and since the election, they've been preparing for it. Now that the announcement is official, it's time to get to work.
This isn't the first time scientists have expressed their worries about the Trump administration's lack of commitment to scientific progress. On April 22, thousands of scientists and their allies flocked to the streets in the March for Science to demonstrate their support for science and their worries that the current administration does not prioritize it. Given both the recent budget cuts to scientific funding and the withdrawal from the Paris agreement, it's clear the administration doesn't prioritize science at all. In fact, it seems determined to stand against facts and prevent scientists from doing their jobs.
Undoubtedly, the consequences of withdrawing from the Paris agreement will be felt across the world. Climate change is real, and its effects are devastating. Even before Trump made his announcement, scientists began to weigh in on the issue. Here are 20 responses to the news that the United States is withdrawing from the Paris agreement.
Technically, They're Multiple Scientists
It seemed remiss to not mention what the March for Science's response was to the news. The short of it is that it encourages everyone to resist. Call your governors!
But Where's The Lie?
How is it possible that anyone doesn't believe in climate change? There's evidence, people! Danielle Dixon, a professor in the School of Marine Science and Policy at the University of Delaware, doesn't understand it, either.
Krypton Didn't Listen To Scientists
The host of the video show The Science Of, who calls herself Scientist Mel, reminds us of what happened in the Wonder Woman comics. It's scary to wonder if Trump is getting his understanding of our world from comics.
Frank Underwood Does Not Have Time For This
Erin Spencer, an incoming graduate student at the University of North Carolina, spares no feelings. Trump notoriously speaks out of both sides of his mouth, and it happened again during his announcement. He can't both claim to care about the environment and remove the United States from the agreement.
So This Is Why Covfefe The Strong Was Summoned!
Robert Kosara, a Tableau Software research scientist, thinks we're moving backward, not forward.
Flint Still Doesn't Have Clean Water
Dr. Dena Grayson is a doctor-doctor, with both an MD and Ph.D., who thinks it's outrageous that Flint still doesn't have clean water. If things are left unchecked, that will be the rest of us, and not even her dual degree will help us.
Maybe He'll Get It If We Say It Simply
Just say it slowly: Climate change is real. We need to address it if we don't want the world to explode with us on it. Matt Salie, a biochemist at the Scripps Research Institute, certainly is worried.
Sorry 'Bout It
NPR has stated that it will take years before the withdrawal takes effect. But Kristen Delevich, a postdoctoral fellow in neuroscience at UC Berkley, seems to think that we should still be worried about the effects on our environment in the meantime.
Since Trump Cares So Much About Jobs...
Couldn't agree more. Sam Wojcicki is an energy and climate junior fellow at the Carnegie Endowment for International Peace and a former chemical engineer. He probably knows what he's talking about.
Even Cersei Lannister Would Walk For This One
Alexander Yosifov is a theoretical quantum physicist who cares about black holes. Wish a black hole would swallow up the States right about now.
Think Of The Children!
It will be up to millennials to deal with climate change. We're our only hope. Don't worry, though; Francis Aguisanda is a Ph.D. student at Stanford in stem cell biology and regenerative medicine and is on our side.
There's Even A Graph To Prove It!
Climate scientists, like Michael Mann, a professor at Penn State, have calculated what will happen to the world as we continue to heat it up. The short of it is bad news. Heck, even the Pope says so!
It's Beautiful From Space — For Now
Scott Kelly is a literal NASA astronaut. He's seen our planet from space. That's got to count for something.
Since 45 Also Cares So Much About Money...
Chris Field is the director of the Stanford Woods Institute for the Environment. He's got people, and they tell him that this move doesn't even make economic sense.
American Scientists Will Flee — With Good Reason
I asked the host of the Mad Scientist Podcast, climate scientist Chris Cogswell, what he thought of the issue. Considering his latest episodes have been on climate change, he made his thoughts clear: We're going to lose our scientists due to this inane decision.
So Much For Coal
Again, scientists like the University of Maine ecology professor Jacquelyn Gill say that the Paris agreement will affect our economy, despite Trump's posturing.
Going To Need Some Ice For That BURN
Ph.D. candidate Colin Carlson also tweets that climate change is irreversible and to not forget about the human rights violations that Trump's administration has basically supported in the form of immigration "reform," the Muslim ban, and LGBTQIA+ rights.
Don't Worry About It!
Richard Dawkins notoriously scorns religion. This might be his way of pointing out the flaw in this congressman's logic. No matter what your beliefs, we can't all wait for God to take care of it.
This Is Not An It Reference
Agreed, Bill Nye the Science Guy: Sad!
And Finally, The King Has Spoken
As if we didn't already think so highly of the current administration. Thanks for cheering us up, Neil deGrasse Tyson!
Everyone should be scared about what happens next. A White House report in 2009 discussed the effects of climate change on the United States, and since then, it has undoubtedly gotten worse. Unmitigated, the United States' effect on the climate could be catastrophic. We can only hope that scientists and other climate change believers will be heard.