Here's How You Can Help These 2 Women Donate Books To Migrant Children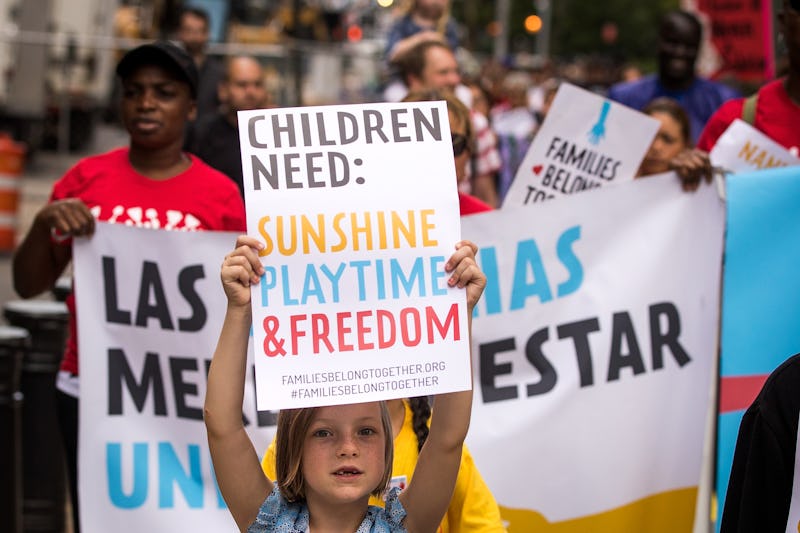 Drew Angerer/Getty Images News/Getty Images
If pictures and video of migrant children in detention centers have you looking for the helpers, here they are. The 2,000 Libros charity is giving books to migrant kids separated from their families, and you can help them bring a little bit of happiness to these children's lives.
Founded in July by Washington, D.C. residents Elizabeth Ballou, a former part-time writer for Bustle Digital Group, and Kristin Stadum, 2,000 Libros' "mission is to provide books to immigrant children who have been separated from their families and placed in centers across the U.S.," according to its Facebook page. The charity is working in conjunction with D.C. Books to Prisons, a similar organization that collects books for incarcerated people and prison libraries.
As of a July 19 article in The Huffington Post, 2,000 Libros has sent care packages totaling 500 books to two detention centers: California's Crittenton Services for Children and Texas' Southwest Key. Titles sent to migrant children include Spanish-language translations of Captain Underpants, The Chronicles of Narnia, Harry Potter, Lucha Libre, and The Little Prince.
If you want to help 2,000 Libros to send books to migrant kids in detention centers, you absolutely should. Ballou and Stadum told The Huffington Post that they did not know how long they would be able to continue operating their charity book drive, due to professional obligations. However, you can still donate to 2,000 Libros through the D.C. Books to Prisons website, with the money going to purchase books from the charity's wishlist.
2,000 Libros also accepts Spanish-language and bilingual books donated at four area bookstores: East City Books of Washington, D.C.; Busboys and Poets of Washington, D.C., Shirlington, Va., and Hyattsville, Md.; Kramerbooks and Afterwords of Washington, D.C.; and One More Page Books of Arlington, Va. East City Books is also taking orders for books from 2,000 Libros' wishlist on its website, as is the Politics and Prose Bookstore of Washington, D.C. The charity's Facebook page requests that donated books meet the following criteria:
New or gently used
Appropriate for kids in elementary or middle school
Relevant to Latin-American culture
Interested people with the time and means to do so are also encouraged to hold book drives for 2,000 Libros in their own cities.
2,000 Libros is one of many immigrant-advocacy organizations that need donations from the public in order to continue helping children separated from their families at the U.S. border. For general donations, ActBlue is perhaps the easiest place to donate money. Described by Bustle writer Caroline Burke as "a one-stop option for donating to 12 important organizations," ActBlue splits donations for migrant children between the following groups: the ACLU, Al Otro Lado, Asylum Seeker Advocacy Project, The Florence Project, Fuerza Del Valle, Human Rights First, Innovation Law Lab, Kids In Need of Defense (KIND), La Union del Pueblo Entero, Neta, United We Dream, We Belong Together, Women's Refugee Commission, and The Young Center for Immigrant Children's Rights. Donors may choose how to allocate their donated funds at the time of contribution.