All The Best Memes And Tweets From This Year's Golden Globes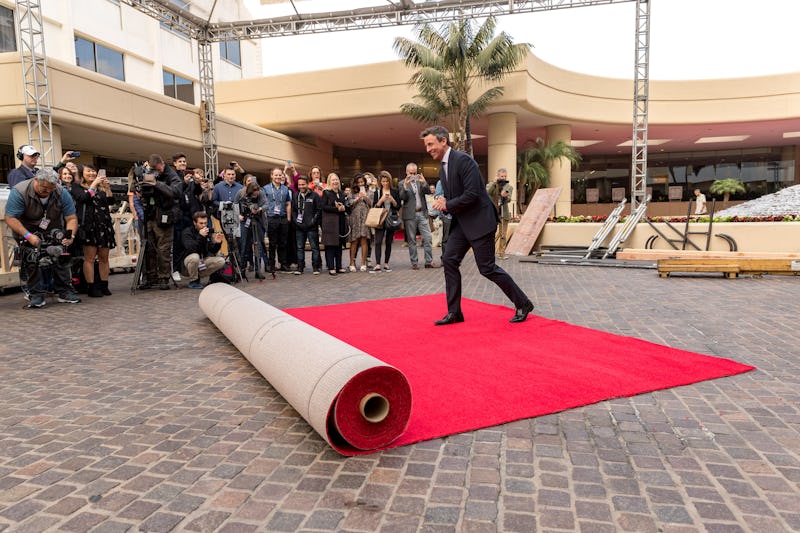 Christopher Polk/Getty Images Entertainment/Getty Images
When it comes to those big, fancy award shows, you never quite know what's going to happen on the Golden Globes. That's probably because they're the only award show in which copious amounts of alcohol (it is basically a big dinner party, after all) are served during the telecast. The later it gets, the more fun it gets! Of course, plenty of memes and jokes from the 2018 Golden Globes have already made their way to the internet.
The 2018 Golden Globes come at a time when everyone in Hollywood is just not sure what to laugh at. In fact, there's not that much that's hilarious in the world right now. America seems on the brink of nuclear war, our president is tweeting threats from the Oval Office, and a new sexual misconduct allegation is introduced every day. And yes, some good things have happened in response to it all — interest in democracy has been reignited, and the all-new Time's Up initiative to protect women in the workplace has been introduced, just to name a few. As the host of the 2018 Golden Globes, Seth Meyers proved he can do comedy that's both political and seriously funny. In fact, some of his jokes hit hard (and a few flopped), and took on a life of their own in homes and online. Maybe some of these tweeters could host someday, too?
When Steve Carell Got Hot
Maybe it's the salt-and-pepper hair, or maybe he's just aged well, but plenty of viewers noticed that he has a little something going on now.
James Franco's Acceptance Music & Speech
Everybody Loves Cheese
After giving her acceptance speech for The Marvelous Mrs. Maisel winning Best Television Series, Comedy, creator Amy Sherman-Palladino (who also is the brain behind Gilmore Girls and Bunheads) hurriedly left the stage in search for cheese. Stars really are just like us.
Surprise & Support For Kirk Douglas
Kirk Douglas is a Hollywood legend, but he's also 101 years old. Plenty of people on Twitter had no idea he was still alive, let alone that he would be at the Golden Globes.
Feelings About Tonya Harding
Quite a few fans thought it was strange that the Golden Globes was condemning abusers but honoring Tonya Harding, a woman who allegedly ordered a hit on her figure skating competition.
Because Get Out Isn't That Funny
Ah, don't you love the award show loopholes?
Everyone Loves Oprah
And why wouldn't you? Honestly. The woman is magic, and everyone on Twitter knows it. Hell, the whole world knows it.
Natalie Portman Told 'Em
When announcing the nominees for Best Director, Natalie Portman added "all-male," underscoring the fact that no women were nominated for the award. Go all in, Natalie.
Nothing But Love For Big Little Lies
You love it, I love it, and we'll love Season 2, too (whenever HBO decides to grace us with its presence). I'd join a coven if those ladies were the founders.
In a year mired by controversy and uncertainty, the 75th annual Golden Globes were more fun than they ought to be. The jokes were bolder, the awards more meaningful, and the statements stronger. With it, the jokes online were bolder, the opinions greater, and the support for both Time's Up and #MeToo stronger. And that's what these movements are all about — sparking conversation and enacting change. As Eva Longoria said on the red carpet, "It's not a moment. It's a movement." Luckily, Golden Globes viewers were there to make the conversation grow, and even though the jokes and memes were biting and uncomfortable at times, they all recognized the need for change.
If you or someone you know has been sexually assaulted, call the National Sexual Assault Telephone Hotline at 800-656-HOPE (4673) or visit online.rainn.org.