21 'Stranger Things' Moments For Fans Who Can't Get Enough Of Steve & Dustin's Friendship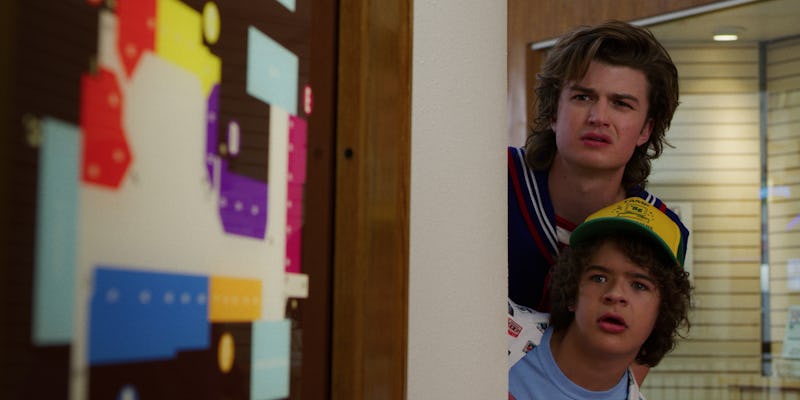 Netflix
Strangers Things is full of epic friendships, but the most iconic duo is irrefutably Dustin and Steve. Every Dustin and Steve moment in Stranger Things is special, but their bond blossomed even more in Season 3. Looking back on the whole series, it only proves how far they've come.
In Stranger Things' very first episode, Dustin lamented that Mike's sister was turning into a jerk. He agreed with Lucas that Nancy dating "that douchebag Steve Harrington" was the issue. In fact, Dustin and Steve didn't really interact at all in Season 1 — even after Steve became a part of the Dungeons & Dragons extended crew to help take on a Demogorgon.
But all that changed thanks to Dustin's desperation in Season 2. With his Demodog Dart on the loose and Mike, Will, and Lucas unresponsive, Dustin turned to the only ally he could find — Steve "The Hair" Harrington and his trusty, nail-covered bat. From there, a beautiful friendship was born.
In honor of their stronger-than-ever bond in Stranger Things 3, here are 21 of their best moments together. Fair warning: it's pretty much every time Gaten Matarazzo and Joe Keery have shared the screen, because it's genuinely hard to narrow it down.