Little Ways To Keep The Women's Strike Spirit Up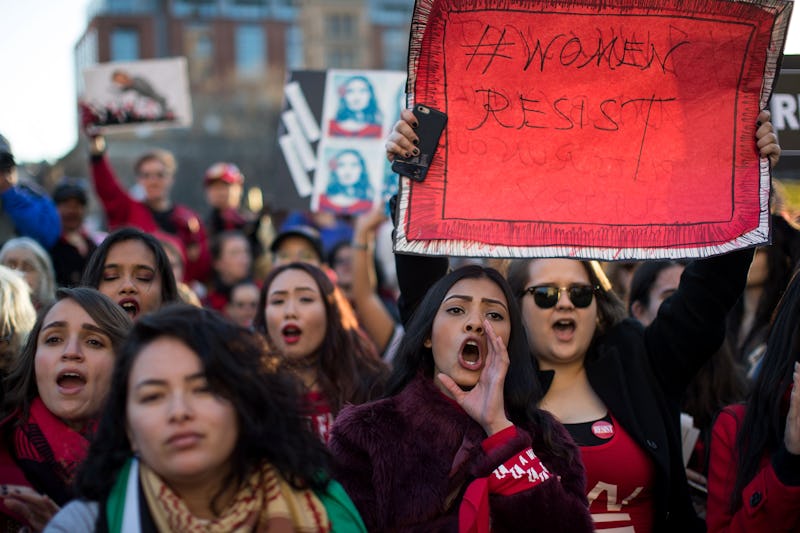 Drew Angerer/Getty Images News/Getty Images
The International Women's Strike and "A Day Without A Woman" may be over, but that doesn't mean our work is done (or, rather, that we necessarily have to go back to work as usual). If anything, the day of protest and the heated discussion leading up to International Women's Day has only highlighted the essential role women play around the world. For those inspired to keep the resistance going, there are plenty of little ways to keep the Women's Strike spirit alive — all day, every day.
On March 8, International Women's Day, women went on strike for economic justice, gender parity, the defense of reproductive rights, and to shed light on rampant misogyny. It may be the 21st century, but gender parity is still a long way off — in fact, the gender wage gap is not expected to close until 2186. The strike got us talking about creating an "expansive feminist movement", and in the face of an administration that is constantly challenging the rights of so many and attempting to limit reproductive healthcare, keeping this goal alive is so very important.
So, what we can do now? I'm not talking about taking more time off of work, nor would I recommend actions that could impart additional economic hardship; instead, there a few small changes anyone can make to their lives that could actually result in a big difference down the road. Check out these small ways to keep the protest going in your everyday life — and remember: Hope is powerful tool when it comes to fighting back.