4 Pairs Of Socks Like Bombas But Cheaper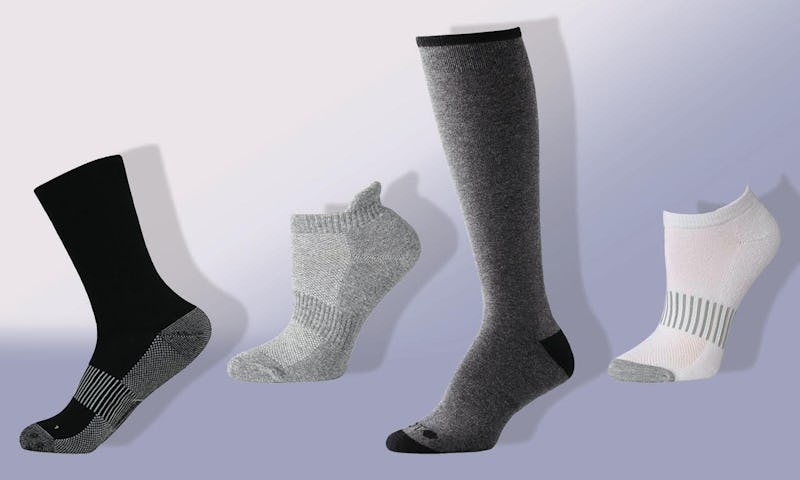 Bustle / Amazon
You can't reinvent the wheel but you can, apparently, reinvent the sock. The team behind Bombas spent two years developing the übersock, and what they created spawned a cult following due, in no small part, to the mind-blowing attention to detail. That said, with a six-pack of their women's ankle socks starting at $72, they're out of reach for many people, myself included. So, if you're looking for socks that are like Bombas but cheaper, this roundup is for you.
Before getting to the list, first let's look at what make Bombas, well, Bombas. Woven into every pair is Bombas' signature "Sock Tech." This includes special details like their honeycomb instep (that provides enhanced arch support), a padded footbed, and best of all, no annoying toe seam (and that alone should qualify someone in their R&D for a Nobel Prize).
In terms of materials, Bombas socks are woven from yarns made with a type of long-staple cotton and wool. This means that the high-quality fibers offer extra softness and strength. And, for every pair of Bombas socks purchased, the company donates another pair to a shelter or person in need.
While the socks below certainly don't have that admirable giving model, they do share many of the same brilliant design details. These options include comfy ankle socks with a discreet pull-on tab and high-tech pairs that are great with dress shoes. You can't buy happiness, but you can buy happy feet: All of our picks are a lot like Bombas but cheaper, at $20 or less.