These Excuses For Sexual Assault Make No Sense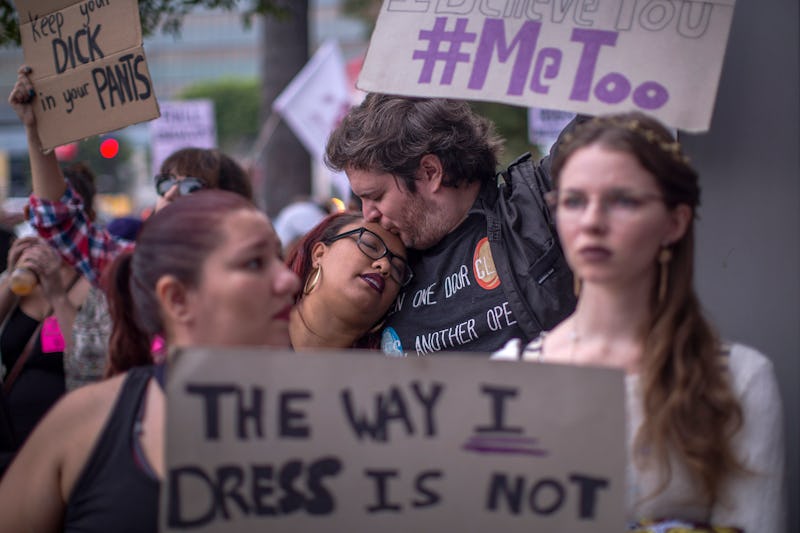 David McNew/Getty Images News/Getty Images
One central component of rape culture is the tendency to blame victims and sympathize with perpetrators, and one way we do this is by making excuses for sexual assault and harassment. In reality, these actions — like any other crime — are inexcusable. And when we examine the excuses commonly made for them, it becomes abundantly clear that they're motivated not by logical reasoning, but by myths that protect criminals and maintain rape culture. In short: These excuses make absolutely no sense.
Despite their inherent nonsensicalness, though, they not only often come up in court to defend people accused of sex crimes, but are also frequently used by the perpetrators and even the victims themselves. Because our culture has spent so long teaching us that it's hard for men to help themselves (it's not) and some people are asking to be violated (they're not), we end up downplaying crimes committed against us. That's one of several reasons that, according to the Rape, Incest, and Abuse National Network, most sexual assault victims don't report the incident.
But no matter what the victim has done, who the perpetrator is, or what happened before, during, or after the incident, there are no circumstances that make this type of crime less serious. Here are some excuses commonly made for sexual assault and harassment — and the reasons why these crimes cannot be excused.
Image: Getty Images