5 Easy Meghan Markle & Prince Harry Wedding Halloween Costume Ideas That Won't Break The Bank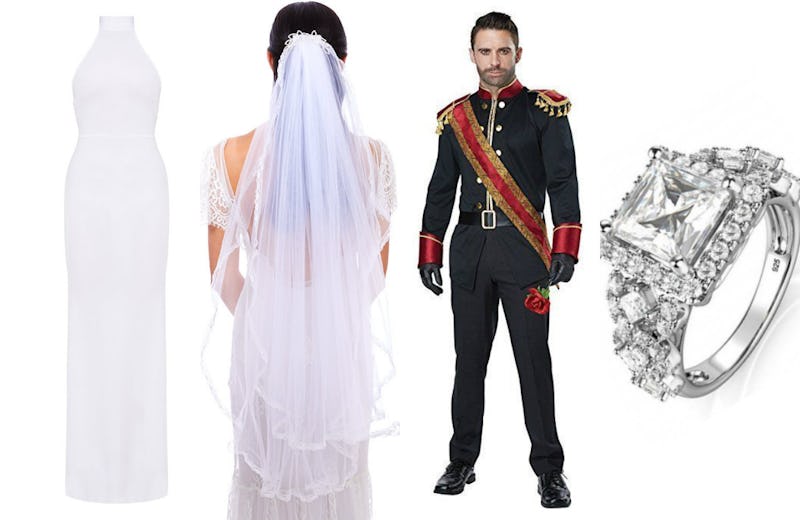 Pretty Little Thing; Icing; Fearless Apparel; Amazon.
If you and your significant other are going for a couple's costume this Halloween, one very dignified option is to make things royal AF and dress as power couple Prince Harry and Meghan Markle, the now-Duke and Duchess of Sussex, respectively. The couple's royal wedding that took place in May 2018 was one of this year's major pop culture highlights, making a Meghan Markle and Prince Harry wedding Halloween couple costume a perfect and highly-relevant choice for any duo looking for an iconic and timely Halloween look.
Prince Harry and Markle's union was iconic in so many ways, and their royal wedding was one of the most unique the world has seen, as they combined longstanding traditions with their own personal and more modern views. For example, the wedding was multi-cultural, funny at moments, and the couple held hands throughout the ceremony (which typically isn't done). So it's no surprise that this royal union wasn't just an English obsession — 29 million Americans also reportedly watched the couple take their vows in May, so it was very much a transcontinental and iconic moment that translates perfectly to a couple's costume.
From the couple's official engagement announcement to their first appearance as a wedded couple, there is plenty of DIY Halloween costume inspiration to pull from. Here are a few easy-to-DIY Meghan Markle and Prince Harry wedding moments that will make amazing Halloween costumes for any couple.
The Royal Engagement
Men's OppoSuits Slim-Fit Navy Royale Suit & Tie Set, $99, Kohl's | Sterling Silver Princess Cut CZ Halo Engagement Ring, $8, Amazon | Sheer Lace Crop Top, $18, Forever 21 | Pure Color Mesh Women's Tier Skirt, $25, TBDress
Naturally, before the royal wedding, there was the royal engagement — and the couple's iconic official engagement photo shoot can easily be your costume inspiration. The royal engagement shots hit the public along with the couple's announcement in Dec. 2017, and a highlight of the pics was Markle's magnificent ring on display. Be sure to find yourself a highly-sparkly knockoff to complete the look.
The Royal Wedding
Hayden Long Sleeve Maxi Dress, $55, GCGme | California Costume Royal Kingdom Adult Mens Halloween Costume, $33, Fearless Apparel | Darice Victory Lynn Peony Flower Bouquet, $11, Amazon | One Tier Lace Applique Edge Cathedral Bridal Veil, $24, JJ's House.
Recreate the full, iconic royal wedding moment with a traditional homage to the couple's matrimonial look, complete with Prince Harry's military regalia and Markle's long white dress and gorgeous floor-length, lacy veil.
A Flirty Halloween Twist
Mens Military Black Double Breasted Coat, $44, eBay | Sadie May White Long Sleeve Dress, $59, Lulus | M75 Track Stretch Denim, $64, MNML | Magnolia Veil, $40, Icing
An alternative to the above look: Make your Halloween costume a little more fun and whimsical with a slightly less formal twist on their classic outfits. A cute dress in a shorter cut for your Markle look plus a slightly-less-officially Prince Harry ensemble makes for a fun and cute twist on this classic moment.
The Reception
White Cross Neck High Back Maxi Dress, $15, Pretty Little Thing | Men's Black Suit Costume, $40, Amazon | Qupid Faux Patent Leather Pumps, $35, Forever 21 | Black Band Collar Bow Tie, $4, TieMart
After the party there's the after party — and after the royal wedding there's, well, the royal reception! Ditch the veil and military garb and prepare to let loose by replicating the couple's classy wedding reception looks.
Their First Post-Wedding Appearance
Pleat Detail Batwing Pencil Midi Dress, $20, Boohoo | Notched Lapel Double-Breasted Slim Men's Peacoat, $36, Eric Dress | Sinamay Saucer With Upturned Brim Hat, $13, Etsy | Neon Blue Tie, $25, Ties
The happy couple's first post-wedding appearance took place just three days after the royal festivities, where they reportedly attended a garden party at Buckingham Palace. Markle — who at this point was officially the Duchess of Sussex — donned a dusty pink pencil dress instead of her white wedding garb, and Prince Harry sported a bright blue tie. If the royal wedding was overplayed for you, capture the couple's post-wedding glow with royal garden party costumes instead.