Makeup Artists Spill The 15 Trends You Need To Know For The Rest Of 2017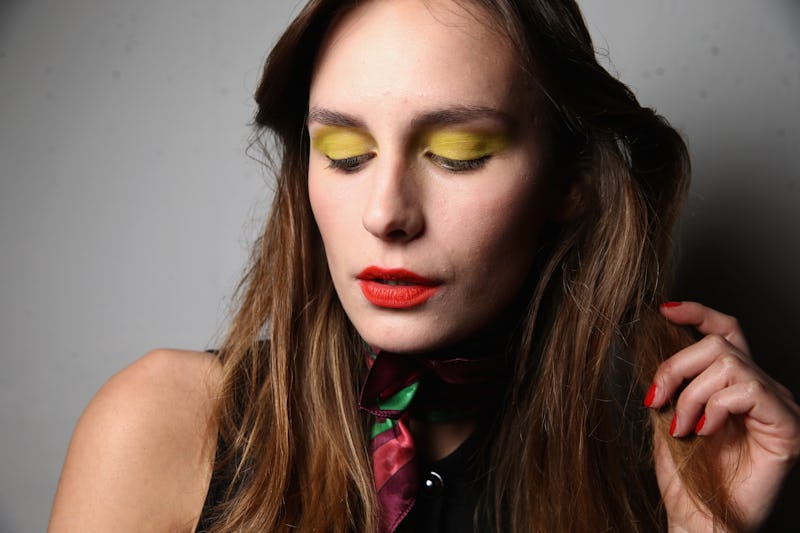 Andreas Rentz/Getty Images Entertainment/Getty Images
2017 has already seen some amazing beauty trends from holographic makeup, to athleisure beauty, to using more natural products, to blotted lips, to peach everything. And the good news is there's still plenty of 2017 left that makeup artists are predicting more beauty trends that will be huge for the rest of the year. Hey, it's always fun to play around with new types of products and application methods, right? Plus, if I'm being honest, there have been some beauty-trend mishaps this year too, and I would rather 2017 not go down in beauty history as the year people used sketchy things to apply makeup.
So let's focus on what's to come. And you guys, the rest of the year sounds like it's shaping up to be beautiful. I emailed with five makeup artists, and they all let me in on what they think will be the new go-tos in terms of what types of products will blow up, and the makeup looks that we won't be able to get enough of. Curious? Here are 15 makeup and beauty trends to keep your eye out for and try on for the rest of 2017. The only question is: Which trend will you try first?
1. Smudged Makeup
According to NYC-based makeup artist Kimara Ahnert, instead of bold liquid lines, statement eyes and lips defined by feathery smudging will be big for the rest of 2017. Stephanie Koutikas, makeup artist and Creative Director at Mehron Makeup, adds that smudgy eyeliner in particular will be all the rage. To get the look, Koutikas recommends lining eyes with a creamy kohl pencil and smudging the lines with a short-haired blending brush.
2. Blown-Out Eyeshadow
Instead of just blending your shadow into your crease, go for a blown-out eye look this year. Ahnert says to extend and connect your crease shadow to your bottom lash line for a soft yet smoky eye look.
3. Stained, Matte Lips
Ashlee Glazer, Smith & Cult Beauty Ambassador, and Ahnert both predict stained, matte lips will continue to be a hot trend for the rest of the year. Glazer suggests trying a lip stain that dries down to a matte finish. Or to get the look with a regular lipstick, Ahnert says to dab product on your lips instead of swiping color on, and blotting across the lips and around the lip line with a tissue or sponge to soften the look even more.
4. Natural Complexion
Rather than overly matte or overly dewy, Ahnert anticipates complexions will be flawless yet natural this year. She suggests priming your skin, using a matte foundation or skin tint, and then topping it off with a radiant, perfecting powder.
5. Monochromatic Makeup
A fresh take on monochromatic makeup will also be huge this year, predicts Glazer. Try pink or rose-gold hues on the eyes, lips, and cheeks for an easy, coordinated look.
6. Formula Integrity
People are becoming "more conscious about the integrity of the formulas they use in their daily beauty regimen," says Glazer. Meaning beauty products that are natural, organic, cruelty-free, vegan, gluten-free, and paraben-free will continue to be on-trend this year.
7. Glitter
According to Glazer, glitter isn't going anywhere. (Cue the cosmetic-grade confetti.) Instead of only saving it for the holiday season, rock glitter whenever you want this year.
8. All-In-One Products
To help with the monochromatic and quick makeup trends this year, Glazer also predicts multi-purpose and all-in-one products that can be easily applied and used on different areas of the face will be go-tos.
9. Copper Makeup
Copper will also be in this year, says Koutikas. And the good news is that this shade works beautifully on all skin tones. Try it as a shadow, eyeliner, lipstick, lipgloss, or even highlighter.
10. 80s Blush
Bold, 80s-style blush is in this year, says Koutikas. So instead of focusing on highlighting and contouring, she suggests playing up your blush instead— even extending it up to your eyes for a runway-ready look.
11. Luminous Complexion
One trend that isn't going anywhere, says Shawn Towne, Global Educator for jane iredale cosmetics, is a luminous complexion. Try a subtle glow all over or a more precise highlight on the high points of your face.
12. Bold Lips
Lips will also be the center of attention this year with bold pops of color, predicts Towne. Especially when paired with soft and muted colors on the eyes and cheeks, intense lips will make a statement.
13. Strong Brows
According to Towne, full yet modern brows are also here to stay. The look he recommends trying pairs groomed and filled-in brows "with a bold lip and little or no shadow."
14. Electric Lids
Shannique Austin, celebrity lash artist and owner of Glam Spa by Shannique in California, says the bold and bright lids that we saw at the 2017 Met Gala were a taste of the trend for the rest of the year. To get the look, she suggests picking a pop of color whether pink, violet, or blue as shadow or liner and defining your lashes so they pop against your vibrant background.
15. Lash Care
Full and long lashes are always in, says Austin. So you don't have to rely on falsies, she suggests protecting and strengthening your lashes. Try this hack: "Soak a cotton ball in green tea, apply it to your lashes, and let it sit for four or five minutes before rinsing off." Doing this regularly, says Austin, will help you grow longer lashes within three months.
I don't know about you all, but I'm pumped for every single one of these trends. Here's to a beautiful rest of the year, folks.